On May 9, at 10:38 p.m., I will turn 25.
My sixth birthday party. My mom managed to cut most of me out of this photo. (That's half of my face looming in the bottom left corner, there.)
My fourth birthday. I was pretty big into Barbies.
My tenth birthday, when everyone had their parties at the Rolla Rena Skating Rink in Council Bluffs. I'm in the leopard-print shirt, holding a stuffed puppy.
My seventh or eighth birthday.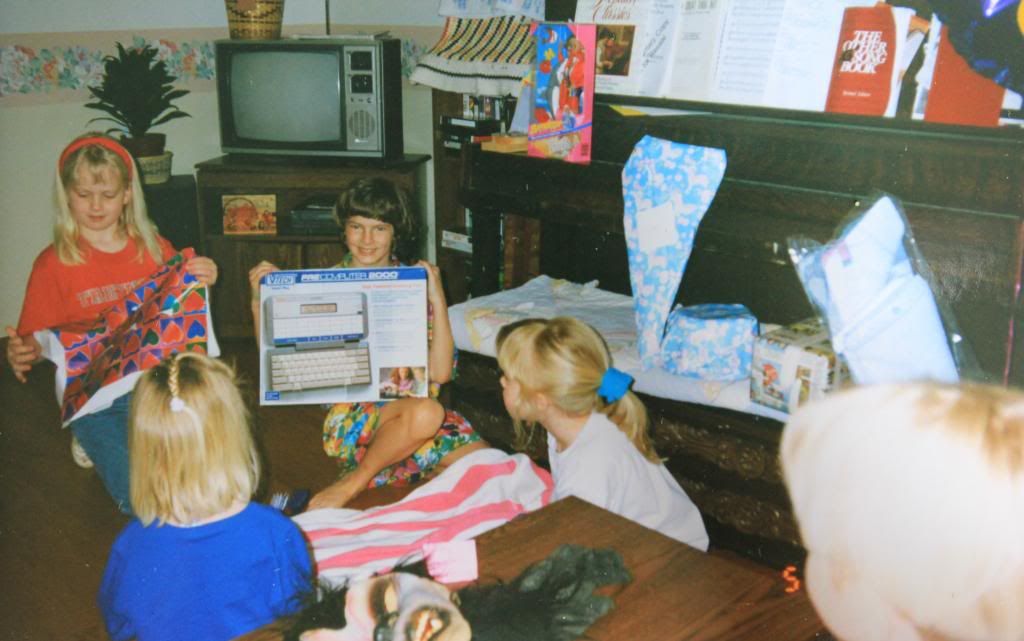 My ninth birthday. Despite the fact that it was only 50-some degrees (a rarity for that time of year), I wore a matching shirt and shorts. Flowers. Obnoxious flowers.
My first birthday, with my mom, brother, aunts, uncles, and cousins on my mom's side. (I and three of my cousins were born within six months of each other.) I also got chicken pox on my first birthday. My mom is in the back, on the left, holding me.
My greatest gifts have been you: my family, the friends who I can call family, my long-time friends, long-distance friends, college friends, high school friends, blogging friends.
* Also known as "The Day I Can Officially Rent A Car Without Having to Pay Extra And/Or Exorbitant Fees." Thanks for the gift, society. It's almost as enjoyable as what I got from my grandmother last year. She sent me a card me 24 pennies taped to the inside. "Twenty-four for your age," she wrote, "and one to grow on." In other words, my grandmother gave me a quarter for my birthday.