I waited Small Business Saturday to start my holiday shopping. I spent my day driving around the city, visiting various shops and fairs. My first stop was at the
Indie Arts & Vintage Marketplace
, an artisanal flea market whose goal is to "enhance the experience of living as a more responsible consumer by promoting the positive aspects and downright fun of vintage, antique, locally sourced, and upcycled goods."
Perfect--given that I'm somewhat minimalist, half-recylist. A part-time hipster, a full-time quirk.
I first attended the Marketplace in September, when it was hosted outside. The fiance and I went back to the Market in October, too, and browsed the various items--the antiques, the vintage clothing, the new and old furniture, the crafts, the flowers, "the stylemakers and the stylebreakers." We revisited some of the vendors we had seen at the earlier, scoped their latest finds and commented on what we wished we could afford.
For small business Saturday, the Marketplace moved from its airy outdoor venue (a parking lot, in less eloquent terms) to a conference center in Carmel. It was darker inside, yellow. And unlike the earlier Marketplaces--where aromas of spice and salt twisted into the air, weaving from the food trucks and teasing our senses--the conference center was hazy with voices and the musky scent of antiques.
But there were Christmas trees, Christmas decorations. Aluminum trees. Glass ornaments. Vintage ornaments. Sparkles. Sequins. Decorative trees made from books. Primitive-style signs splayed with "Ho Ho Hos" and "Good Tidings." Ornaments reconstructed from an antique folding ruler. Blue and yellow picture frames. Handkerchiefs. Nesting dolls. Player piano rolls. Snowmen. Glitter. More fabric.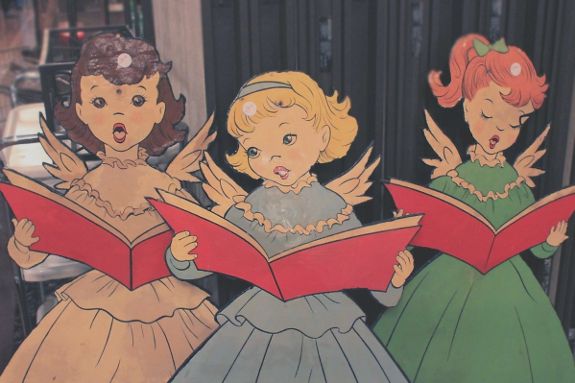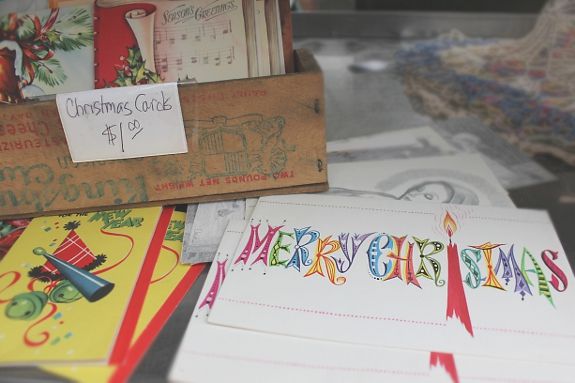 It was cozy, crowded. Successful. I wandered the booths, tried on a few vintage dresses. Ogled ornaments and beakers. I picked up some presents for my mom, ideas for my grandma and cousins.
The next show for the
Indie Arts & Vintage Marketplace
is in January. If you are in the Indianapolis area, and are at all interested in vintage, antiques, or handmade goods, definitely stop by. There are dozens of vendors to browse and--because the November event was such a success--new vendors are being added every week. Vendors come from all over--many are from the Indianapolis area, or from the state of Indiana. However, I have met vendors from Michigan, Ohio, Tennesse, and Illinois--they bring their trade, their brands, to the city.
Though I eventually trekked out to Hobby Lobby (an 11-mile drive that takes at least half an hour), I also visited Massachusetts Avenue, which, in Indy, is commonly referred to as "
Mass Ave
." It is one of Indianapolis' six cultural areas, and one of my favorite places in the city to visit. It's cultured, yes, but also pricier--many of the shops are
just
above my range. There are a lot of pubs--Chatham Tap is my favorite--including one that features live jazz each night of the week. Some of the stores along the avenue include
Silver in the City
(a quaint and quirky gift shop I like to visit, but don't necessarily like to purchase from), Arts a Poppin, Global Gifts (one of those fair trade organizations that carries items from Ten Thousand Villages), Indy Reads Books, and
White Dog
--my favorite.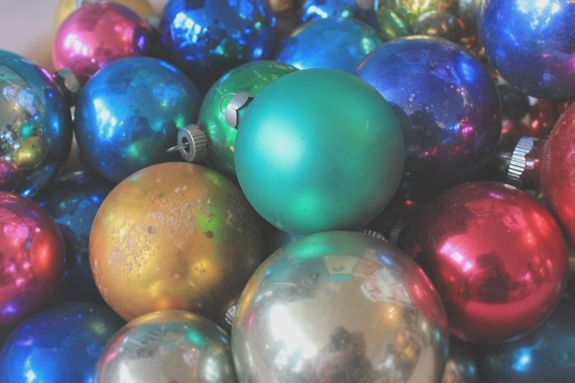 Even though White Dog's clothing selection is small, I've managed to pick up two dresses for myself--both less than $20, both in excellent condition. I also managed to snag an eighteen-piece set of black stemware for less than $40! The stemware was something for which I had been searching for months, eager to have it at our wedding. I was thrilled to have found it hidden at White Dog, on a lower shelf behind other vintage kitchen wares. Furthermore, White Dog's window displays are always visually stimulating. They're invitingly retro and, of course, revolving--there's always something new.
Last but not least, I visited
Handmade Promenade
, a pop-up shop that features, obviously, hand-crafted goods from various local artists. Its main goal, similar in part to the Marketplace's, is to periodically blend local businesses, local artists, and independent crafters as a way to share their creations, as well as bring awareness to the handmade movement.
Handmade Promenade has been in existence since 2010, and has hosted craft fairs throughout the city. This year, Handmade Promenade is renting a space on Mass Ave, and is showcasing the work of 55 artists--many of whom create Indy and Indiana-related goods. While there, I picked up some a few things for other people, though I was intrigued by the fancy cutting boards and the thickly woven winter hats. (I'm a locally-made snob, admittedly.) As one of the first purchasers of the day, I received a free "swag bag," which contained coupons to many of the artists' Etsy shops, as well as a "grass bomb" from a children's environmental project (the name of the project escapes me at the moment, unfortunately). I also received this guy:
At first, I didn't know what to think about this fuschia fuzzball. Far too pink for my tastes, and it was just something I never would've considered picking up. However, it's lopsided repugnance has grown on me, and I do have him on my tree (albeit on a low, corner-grazing branch). What makes me happier, though, is that this little guy--who I tweeted about--brought
the artist
additional business. A couple followers were interested in her "monster ornaments" and ultimately purchased their own. Now
that
makes me happy--social media and the promotion of small businesses.
Is anyone else interested in the handmade movement?