"This is the Florida of Canada, guys."
It was morning, and we were driving through Niagara Falls, finding our way to the diner we had pegged for breakfast. It was early--well, early for us, anyway--and the streets were filled with tourists, families with strollers and sunblock. Kitsch everywhere. Bright, flashing lights of carnival rides and wax museums. Out-of-this-world architecture for wandering eyes' sake.
"It's like Vegas. Only there's one really big casino, rather than 20 million."
"Ugh. Why are there so many tourists?"
"You know," I said, "as soon as we step out of this car, we'll be tourists, too." I sighed theatrically. "I say we stay in the car and baseless-ly judge people from the safety within."
We laughed at our pretentiousness, but soon diverted our judgments onto our ancestors.
"The 200-year anniversary of 1812 is this year," Zo
ë observed.
"They'll probably do something big back in Mississinewa," I said, thinking of Indiana traditions.
"Yeah, William Henry Harrison sure killed a lot of Indians," Ty grumbled. "Gosh, it's good to be white."
Zo

ë and I smirked at his sarcasm. "Yes, if it is anything we're good at, it's slaughtering other people by the thousands."
After more tactless observations--about both history and about Niagara Falls--we found our diner.
Simon's Cafe had boasted nearly a five-star rating from Trip Advisor. Comments on the site praised the diner for its food, its atmosphere, its hospitality. Needless to say, it didn't disappoint. In fact, it exceeded any expectation I had ever had for a diner.
"I feel like I just came home," Zo

ë said as soon as we entered. Books, everywhere. Stacks of boxes outlining the tables. A village of ceramic homes set high on a shelf. Knick knacks squeezed between brown pages and ancient newspapers. Antiques. Canisters. Jars. Pictures. Embroidery. License plates. A little bit of everything.
But it was clean. The tables were wiped, the general floorspace free of hazards. The fridge was stocked fresh with orange juice and soda. The chairs were shiny, red. The group of regulars--a few haggard, graying men--greeted us with smiles and requests to find seats. As we weaved through the chairs and toward the counter, I looked around, breathed deep. Bacon. Coffee. Books. It smelled of a cafe within a used bookstore.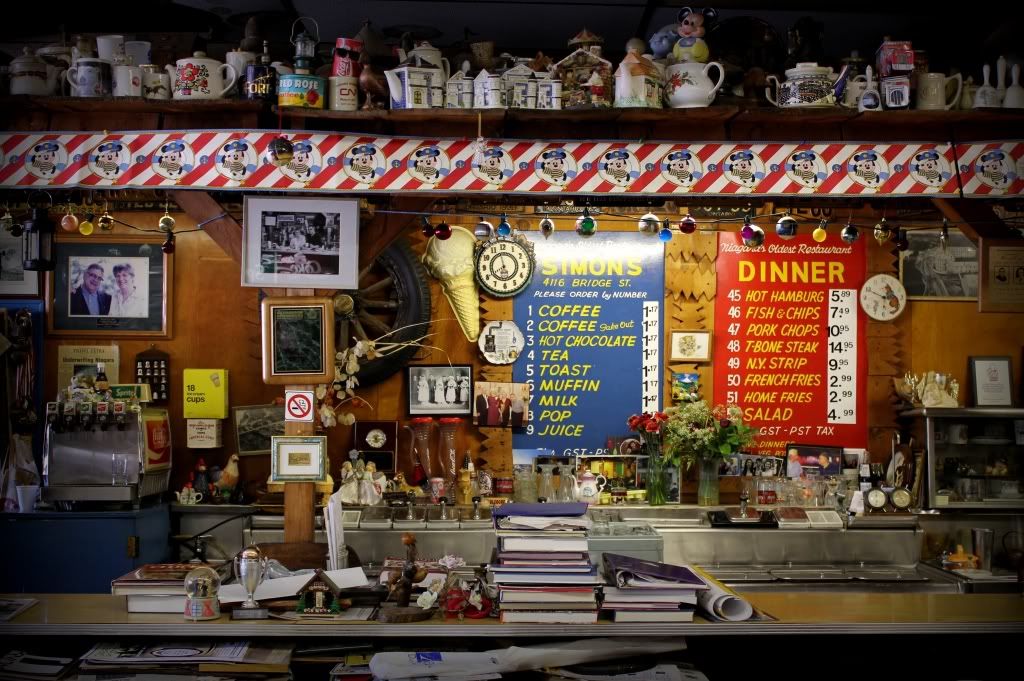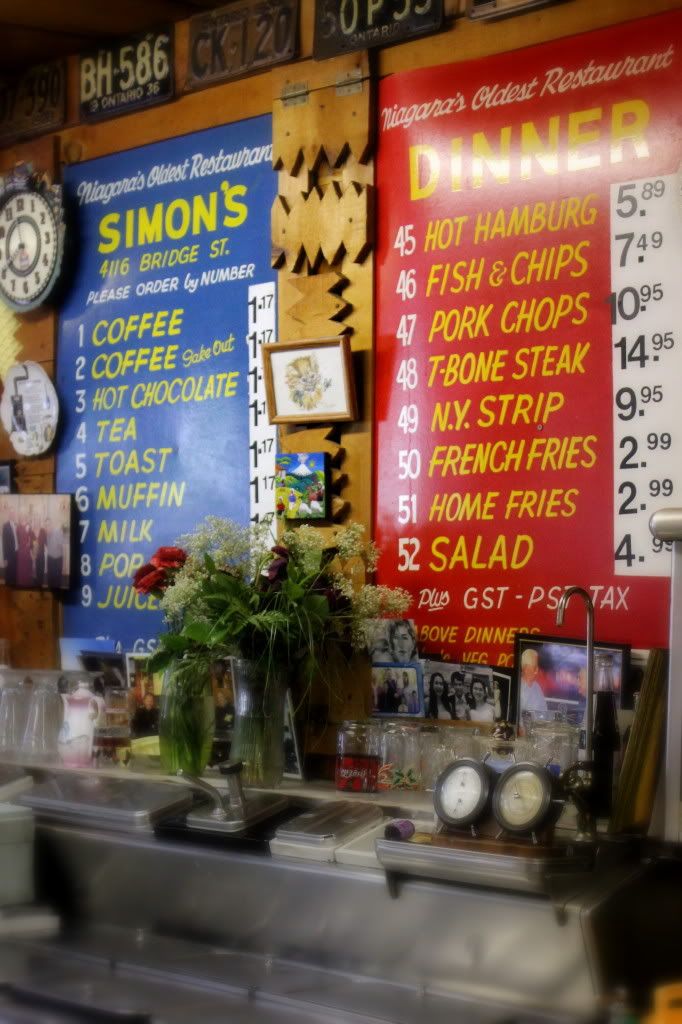 The food, of course, was wonderful. The bacon was thick, crisp, smoky. The eggs were cooked to perfection, the toast lightly buttered. It was delicious, and my aching stomach devoured each bite.
The owner, Simon, even took our picture before handing us the guestbook. "Please sign it," he said. "We're always happy to have visitors." He then handed us each a pin--a small, golden trinket with an image of Niagara Falls. "Here's a small thank-you to you folks," the white-haired, question mark-shaped man said.
We gushed over the small tokens. Ty pinned his to his shirt.
"Hey guys," I said, turning my pin over in my fingers, "Know how we were talking about getting three of the same thing? Plaid shirts? Trilbies? Something? Well, I'd say we have them now." I rubbed the pin between my fingers, then zipped it into a pocket in my camera bag, not wanting to lose it.
Before leaving Simon's (which I highly, highly recommend if you will ever be on the Canadian side of the Falls), we spent a good deal of time skimming through the guestbook. Words and names in a variety of languages spilled the pages. People from Canada, America, France, England, Belgium, Germany, the Netherlands, Japan, the Phillippines. Page after page of writings, scribblings, drawings, thank yous and compliments and we'll visit agains. One page held only one signature--Avril Lavigne's.
The Falls were stunning. It had been a small challenge to find parking (at the top of the hill, past many of the tourist traps), and had been a hassle wading through the throng of people, but the views were worth it. American Falls. Bridal Veil Falls. Horseshoe Falls. None of them bigger or smaller than I imagined. Just majestic--the weight of the water, gallon after gallon after gallon tumbling to the rocks. And blue. I had not imagined that--had not imagined the blue. It was vibrant, beautiful. We did not have water that reflective, that relaxing, that azure in the Midwest. I stared at it, mesmerized. Swirls, foam, twisting strings of bubbles.
Teal. Cerulean. Royal. Deep. Sapphire. Blue. Blue. Blue. The light changed it. The mist changed it. But it was always, always vivid.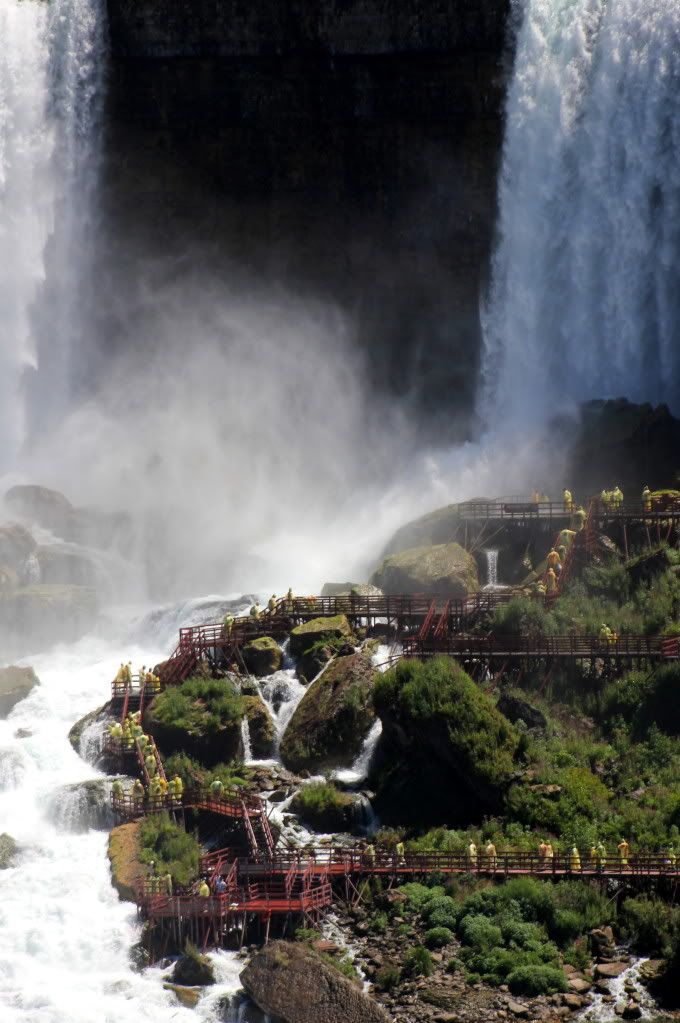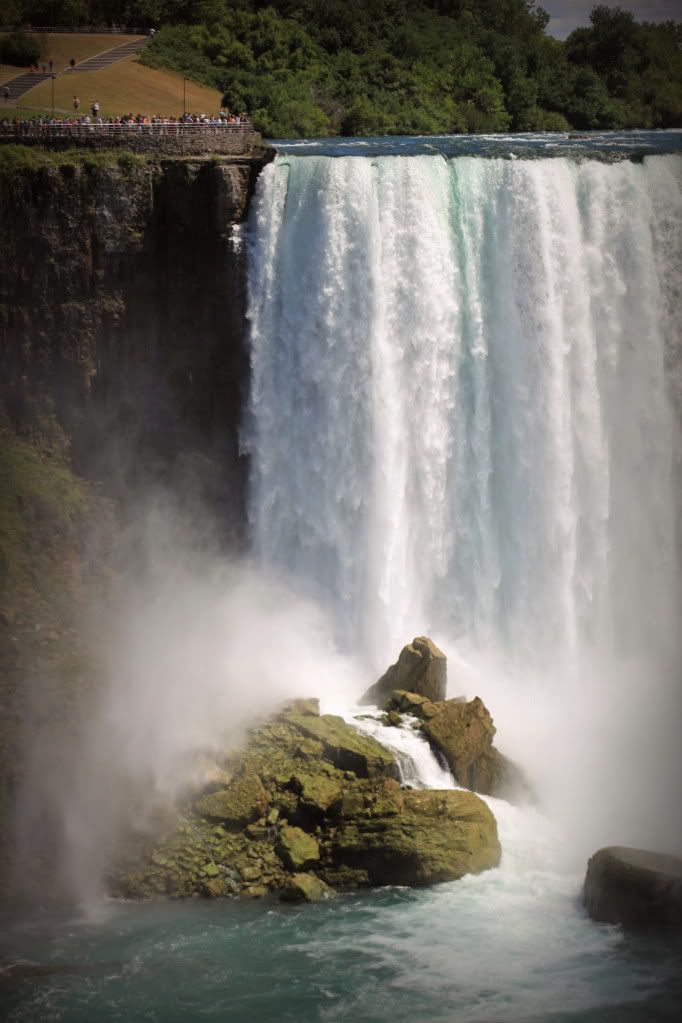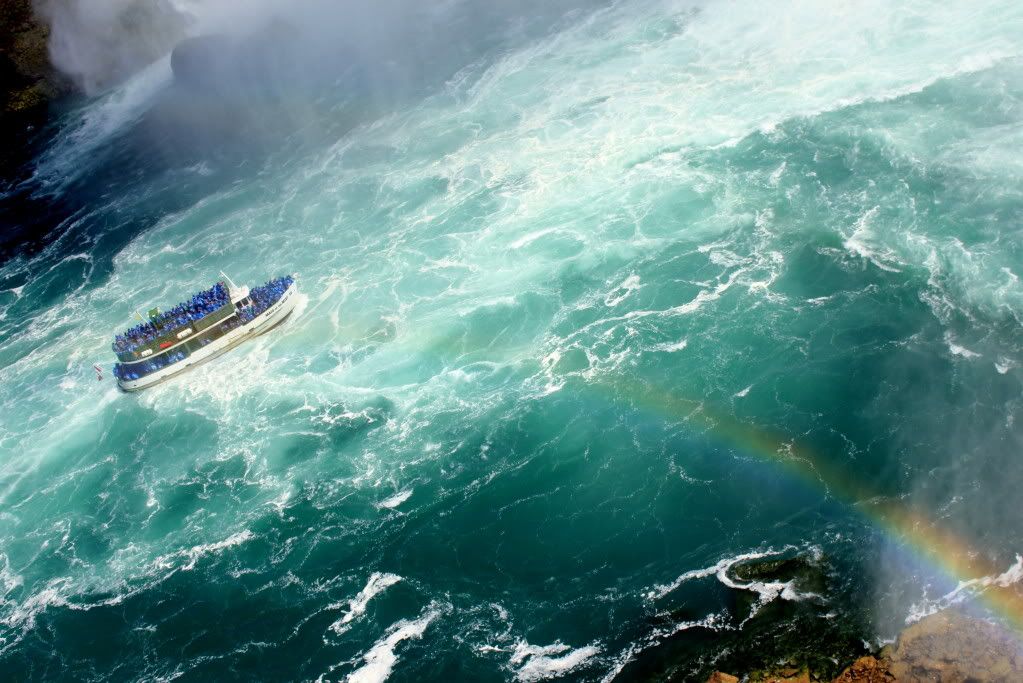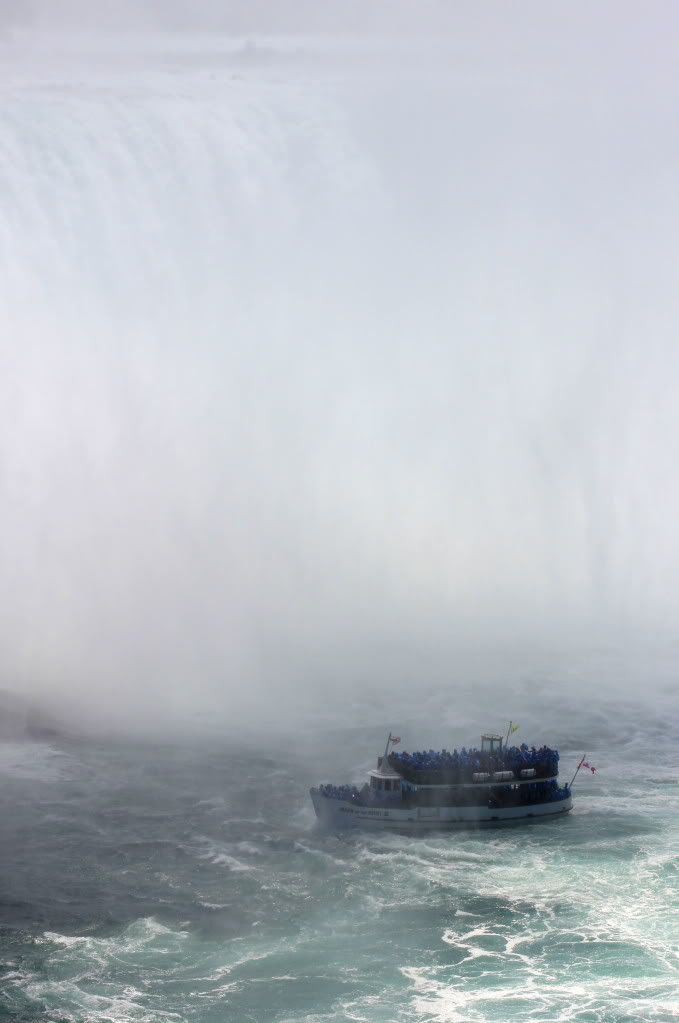 We walked up and down the Falls for awhile, taking various pictures of them, of each other. We took pictures of other people. Asked other people to take posed photos of us. We chased seagulls. Lost each other in the crowd. Lost each other in the gift shop. Got lost on our way back across the border.
SIGH.
The border--
the one thing that kept us from happiness that day. The thing that took us three and a half hours to cross. The place that sent us back, that encouraged our mantra: "We're moving to Canada."
From here on, you'll read my abbreviated version of our experience. Overall, I wish that the border patrols' treatment--i.e. their words and attitudes--toward individuals were more about questioning than interrogating.
Our three-and-a-half-hour venture began with our first crossing of Rainbow Bridge. Our questioning--while easy and welcoming when entering Canada--was much more aggressive. We were asked to pull over, where our car was searched and we were questioned. At first, our inspector was wary of our purpose, our road trip.
As a sufferer of high anxiety, I greatly struggled with the situation. I felt as if our honest responses were not the answers they were looking for and, as a result, I became overwhelmed. I twitched, sweated. My heart raced. I nervously filed each of my fingernails with my teeth. I shook a little, tried to hide it from my friends. I was incredibly uncomfortable.
We were driving, just driving.
This was just one stop on our way to another. I don't understand.
I don't understand
.
Eventually, we were sent back across the Canadian border, as we had firewood we had forgotten about. (And, yes, we do admit stupidity on that element.) We patrolled nearby streets, threw the wood in a dumpster--one already filled with numerous items, including empty bottles, fruit, more firewood. We obviously weren't the only ones dumping.
For the third time, we drove across Rainbow Bridge. For the second time, our car was searched. And for the first time in several days, we were finally allowed to enter our own country, and the state of New York.
We spoke not a word. We had ranted enough on the other side of the border. Worn ourselves out. Smoked enough cigarettes. We turned on our phones in turn, waited for the texts and voicemails and messages to load. We were quiet for most of the trip through New York, and it wasn't until we were nearly to Pennsylvania when Ty said, "That just really sucked. I mean, it just put a damper on the whole day. It was disheartening, and we, you know, haven't been saying anything since then."
"Guilty until proven innocent."
"We should've stayed in Canada, guys."
It was difficult to find a place to stay that night as well. Several of the hotels in the city we stayed in were booked. We eventually settled on an overpriced Best Western. It was late, and we wished for sleep. It had been a long day--one with people, many people, and several extra miles.
But although the day had taken a downturn, we still had our views of Niagara Falls, our laughs with each other. We had matching pins, a photograph or two of all three of us. And, most of all, we had a story--we had had an experience that we could share with others, laugh about years from now.
Though the day had been dampened, I knew things were bound to improve the next day. I acknowledged that even before we reached the hotel. It was long past dark at that time, relatively late. Newly-sunburned Zo
ë was crashed in the back, her head titled sharply to the left. My favorite song, "Home" by Edward Sharpe and The Magnetic Zeros, had begun playing. I kicked off my flats, brought my knees to my chest and sang along as we drove up and down the New York and Pennsylvania mountains.
"Right now, these are just tall, looming shadows. I can't wait to see them in the daytime," I said to Ty. "I bet they're gorgeous."
"They will be."