Now, a month after we returned, is when I am beginning to share my Canadian journey with you. I wish I could have shared it weeks ago, the day I returned, even, but it was just not possible. Not with moving, with packing, with job searches and adjustments and postponements. Life and real-time conversations took precedence, as they always do (and should).
A week after our return,
I spoke of
my new, but deep, interest in our neighboring country. I could once again talk about how smitten I am with Canada, how much I loved Toronto and how my friends and I are, at the very least, 60 percent serious about moving there. Indeed, I have already considered graduate school in the city, and am actually in the process of researching schools and programs. However, my educational and professional goals are quite separate from this trip...
Ty had driven practically four hours from Evansville the night before, and, after getting to the apartment in Greenfield, shared a few home brewed-beers with my fiance. Like usual, we talked about books, and I showed him a few older copies of things I had picked up for the wedding. Sometime around midnight, we decided to crash. An early morning it would be.
Several hours, some sunshine, and a lot of raspberry waffles later, we waited for Zo
ë
. When she arrived at the apartment, I gave her the short tour as well, making sure to detail the number of boxes I had stacked in the spare room.
"We look like hoarders, Zo
ë," I said. "HOARDERS. I am my grandmother, only with less smoking and more cats."

Zo
ë laughed. "Oh, Dawn. You've seen my house. You're fine."
"Yes, but your boxes don't reek of nicotine."
Back in the living room, the four of us--Ty, Zo
ë, my fiance, me--talked. Joked. Began a faint outline of our week-long road trip. Talked about
home brews and wine and typography. I don't remember much, other than Zo
ë loudly discussing how terrible cheap wine and boxed wine was. "Oliver is the Helvetica of wine," she said.


After combining clothes, camping gear, coolers, Goldfish crackers, Oreos, and apples into one car, we said our thank yous and goodbyes to Hans (mine, of course, was the longest). We waved our hands as we left the parking lot, the apartment complex, Greenfield itself. Canada--our mission, our destination--was a long way away. Detroit, even, was far.
On the Interstate, we discussed trivialities, listened to jazz music. Sinatra and Sheldon interspersed our comments about Donna, the world's oldest hippopotamus, and a creature that, until being euthanized recently, had lived at the zoo in Evansville. Bathroom break. Doris Day. "Do you know how they determined the height of overpasses on the Interstates? V2 rockets." Louis Armstrong. Sinatra. "Are we there yet?" "You two stop it or I will turn this car around!" Bathroom break. Brochures about wine trails. "There is a lack of Interstate to Evansville. Come on; we have meth, too!" "Are we there yet?" "Be quiet and appreciate the lack of vista." Astaire. Sinatra again.
Near the Ohio border, we passed a motor home, one probably carrying a herd of family members.
"You know," suggested Ty, "An RV would be
kind of
fun."
"True," Zo
ë added. "It would be for the first couple of days ... until you realize how inefficient it is and that you look like a tool." We laughed, like always. We teased each other, swore, like always. Just a few hours in, and it was already glorious. We were eager, happy to go someplace new, someplace no one had been to. Canada. Canada. Canada.

We stopped in Ohio for both gas and a break, pulled into a "travel plaza."

"I don't get it,
Zo
ë," I said, as we walked into the building. "This is like a gas station with an attached airport terminal."

Indeed, the building extended far behind the convenience area, and it housed large, fully automatic bathrooms. Multiple televisions displayed weather, news, cartoons. There were maps, brochures. Coffee stands. Souvenirs. A place to take photos.

"This is so weird," I said, as Zo
ë handed me a book off of a rack.

"The Cat Lover's Devotional?" I cracked the spine and flipped through several of the pages. We skimmed a few of the words together. "Oh my goodness," I said. "This ... this is a devotional book for those who own cats?"

Zo
ë shuddered at my confusion, but also smiled.

"
Wait," I said again, "this is about how CATS tell us about Scripture?" I shook my head, wondering why there was a market for such a thing. "WHAT IS WRONG WITH OHIO? I mean, not to be down on the author, or down on Ohio, but why does this exist? I am VERY CONFUSED."

Back in the car, back on the road.

After touring through Toledo, we turned north, toward Detroit. We thought it would be best to do a pit stop there, find something to eat, wander a bit. Once we hit the outskirts of the city, we recoiled--not from the devastation, the depression, the abandonment--but from our own expectations. We knew it was going to be ugly, knew there was going to be graffiti, empty buildings, broken glass, cities of tents. What we didn't expect, however, were our own feelings, our own sympathies about how bad it was.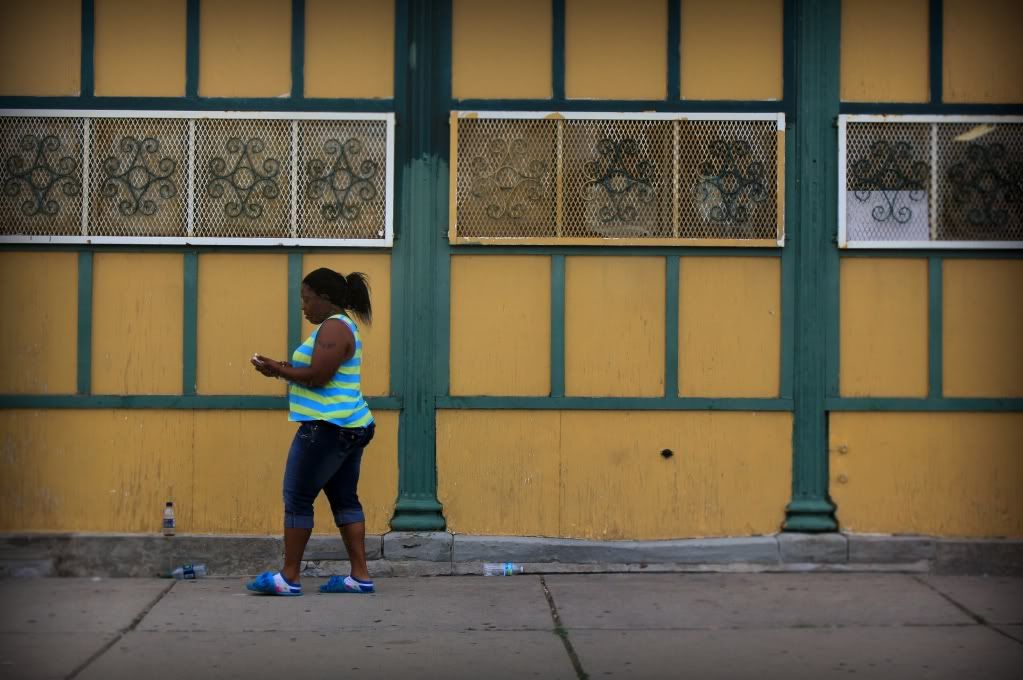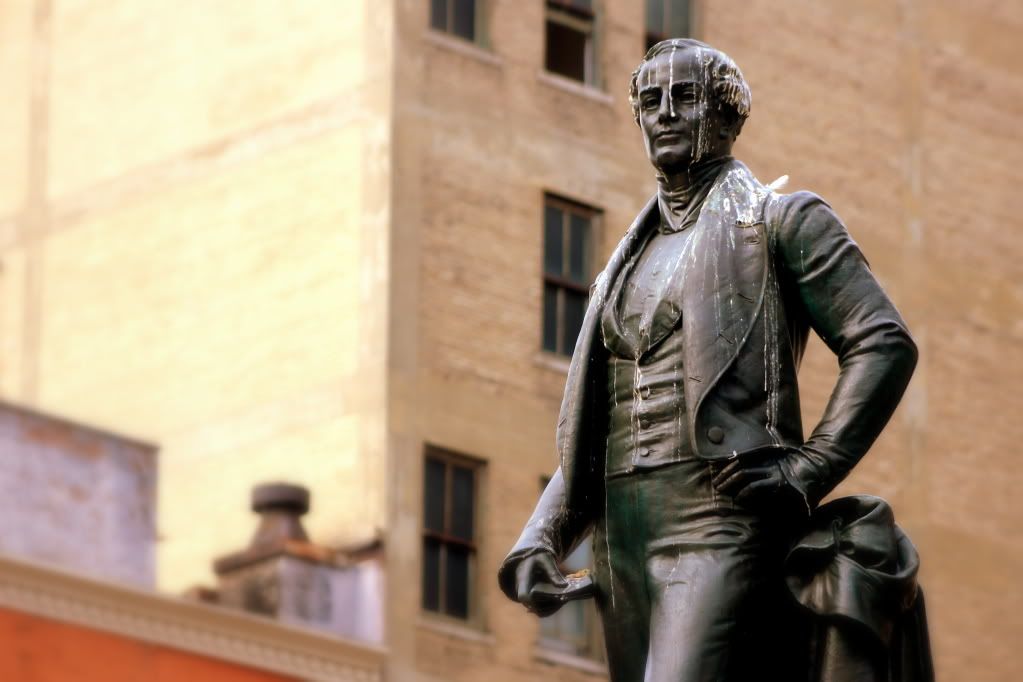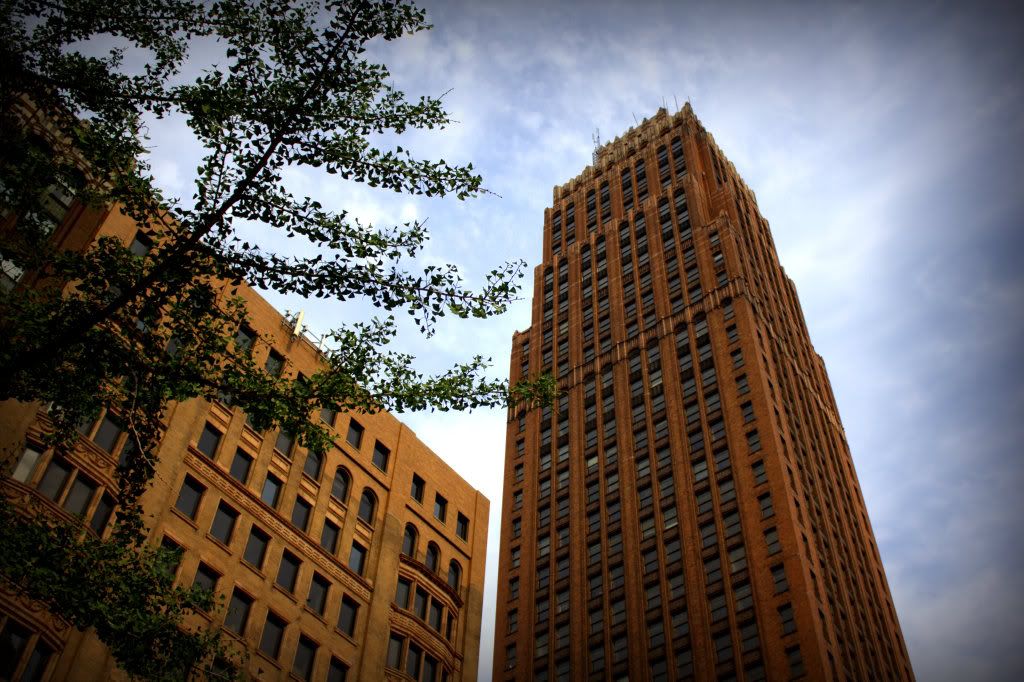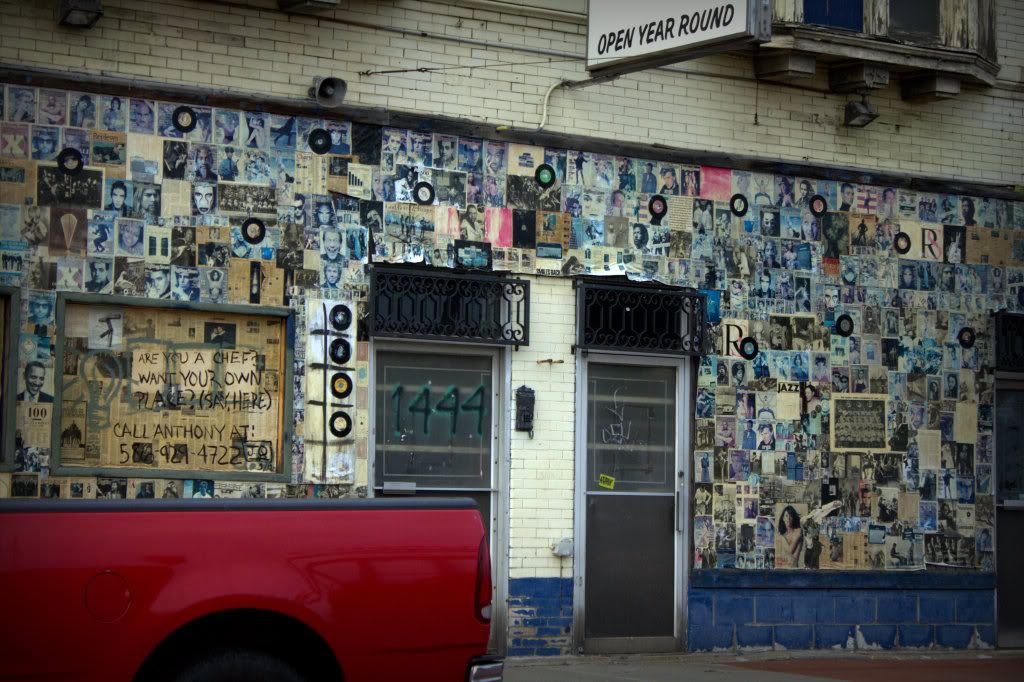 "I am both scared and intrigued," I said to my friends as we exited the car. "This place is so empty, so quiet. We are in the middle of a city, downtown even, and there is so much emptiness."

"It's like visiting a dying friend in the hospital," said Ty, gazing upward, cigarette to his lips.

Zo
ë's eyes widened with recognition, but she remained unsurprisingly quiet. Instead, she examined buildings, architecture, words, people. She saw things I didn't see, observed what he didn't.

The streets were relatively deserted. We could walk, three in a row, undisturbed. You could hear the muffled rumbling of cars in the distance, of buses. But things were mostly empty. We rarely passed an individual, and the greatest sounds we could hear, save for our own footsteps, were the gulls, their wings against air. They flapped overhead, kvetching over crumbs and passerby.

It was nearly 4:00 when we ate, a strange time for feasting. Regardless, we went into a place called Lafayette Coney Island. The parallel was not lost on us--the diner was named for the street on which it was located, West Lafayette. It was strangely fitting, given that we had met at college, in a city of the same name.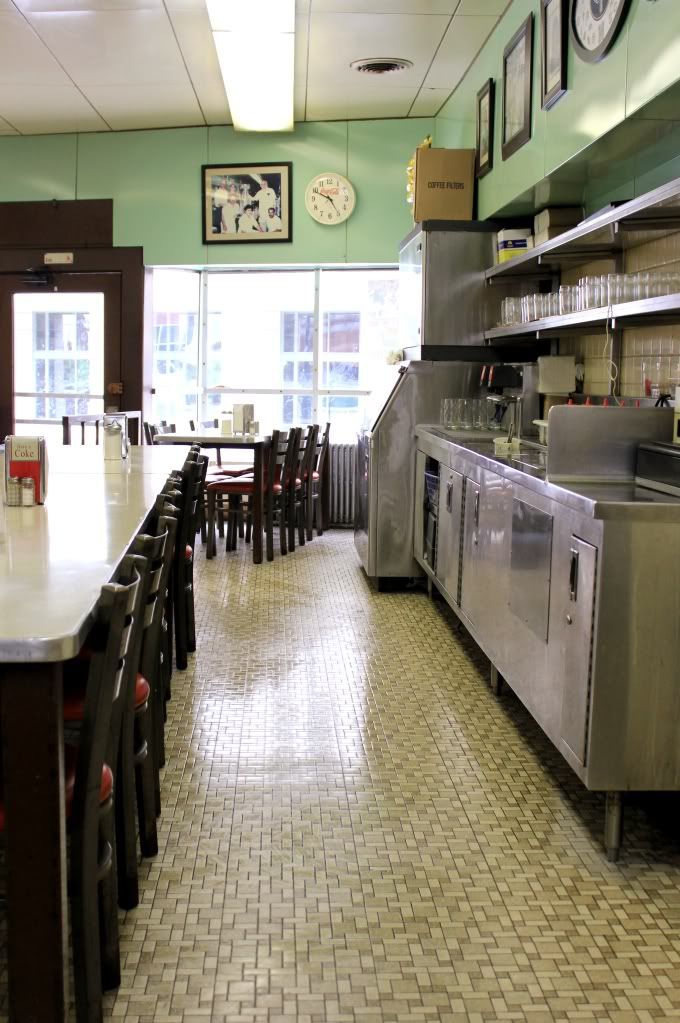 We sat the counter, at incredibly low stools. The inside was colored mint, 1950s. Silver napkin dispensers. The cash register was made of buttons and roll overs. It was open, entirely open. One worker sat in a corner, lounging, watching us, the only customers. I remember our waiter, our cook, slamming our glasses on the counter, spilling drops of water. He wasn't rude, he wasn't mean; just hardened and coarse. When he spoke to the other employees, his deep mumbles crescendo-ed instructively, as if each order he bellowed was as urgent as the next. His skin was dark, patchy, wrinkled. He was formidable, as formidable as diner chefs can come. All the same, he took our order, gave us what we requested: a trio of hot dogs--ones coated with onions and drizzling with mustard.

After eating, we walked back to the car, called our families (and, in my case, a fiance) for the last time. "About to head into Canada," we told them, "So I wanted to say 'I love you' and 'goodbye' while I still could."

We stopped, a final time, at a plaza just before the border. Inside, Zo
ë took a few goofy photos of me with a statue. There was nothing else remarkable about the building, other than one, the signs already included French and, two, the outside land was carpeted with Astro Turf. We were more fascinated by the Ambassador Bridge, the main artery of North American border crossings. It was expansive, blue, tall. Blue, very blue. And very tall.


"That's Canada, guys," I said, pointing and smiling. "Almost there."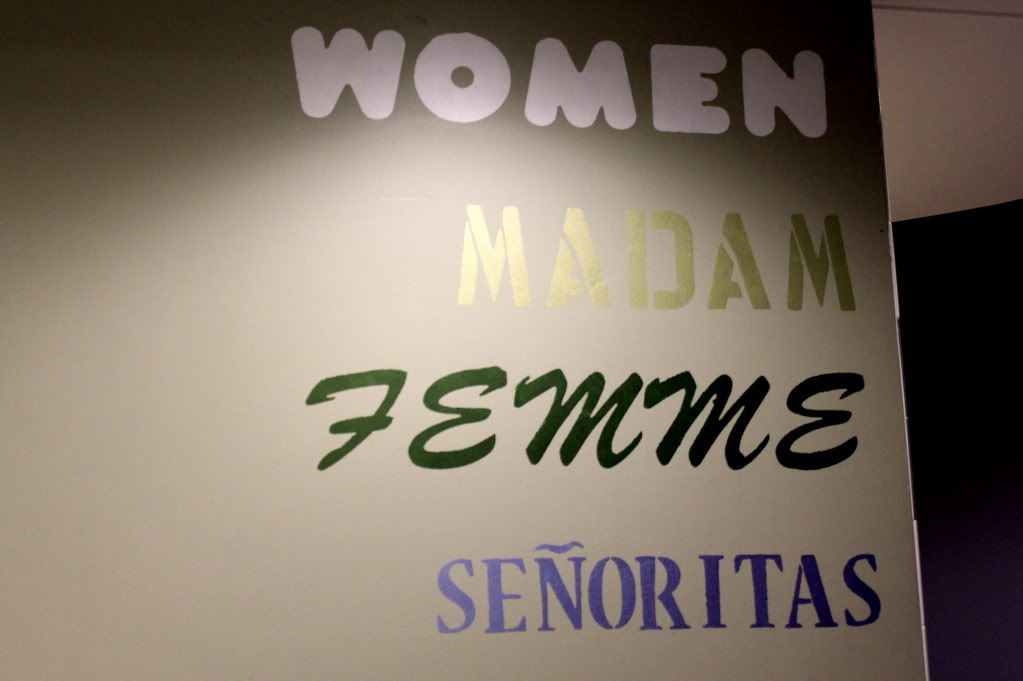 Traffic across the bridge was a bit slow, but tolerable. We were going to Canada; no complaints. At border control, we handed over our passports. Ty, fearless leader, answered any questions he had for us.

"Reason for travel?" "Pleasure."

"How long do you plan on staying?" "Three or four days."

"How do you know each other?" "We went to school together."

The Canadian border patrol seemed uninterested, bored. Protocol, these questions were.

"What do you have in the car? Food? Alcohol? Hazardous materials?"

Ty froze for some reason, stumped, apparently, on how to answer. "Uuuhhhhuh, a tent?" He paused, looked briefly into the backseat. "A uh, box of Oreos?"

Instantly, Zo
ë and I attempted to stifle laughter. My head was in my hands, my shoulders shaking. Don't laugh. Don't laugh. Don't laugh.

After only a few minutes, we were free, free and driving on the streets of Windsor. Zo
ë and I berated Ty, laughed hysterically. "OREOS? THAT'S THE BEST YOU COULD SAY?"

"Well, uh, you know. I, uh, froze. Forgot."

"And I am not. a student," Zo
ë said, acting as if Ty had insulted her. "You said we were students. I am a food service professional, thank you."

"Yeah, you could tell that guard was not taking us seriously at all," Ty said. "But guess what? Everything is in kilometers now!" he pointed to a sign on a passing telephone pole.

"Your car has those, though, doesn't it?" I asked. "I mean, I have a ghetto car, and mine does."

"No, my car does not have those." He lifted his hands, glanced at the speedometer. "And this is how we're going to die."

It wasn't long before we stopped again. Since we would be camping that evening, we needed provisions. Adult beverage provisions.

"Hey, look," Ty said, drawing our attention to a donation box in the corner of the parking lot. "You can donate things to help the Canadian Diabetes Foundation." He paused, pointed down the street. "Well, there's the American contributions--Taco Bell, KFC, Pizza Hut..."

Not even two hours later, we were at Camper's Cove, a campsite near Wheatley, Ontario. It was situated on the banks of Lake Erie, and we wandered down to the water before setting up the tent. It was peaceful, pretty. We waded, tried to skim rocks. Looked at shells and stones. A small mound of sand had been built by someone, gull feathers thrust into it with mock achievement.


This is nice, we agreed. The evening was made even better with the "Moose Tracks" ice cream I bought for Zo
ë and I.
Cool, sweet, delicious. Perfect.


Several minutes later, and back at the campsite, the three of us argued on how to set up a tent. Or, rather, argued with the tent itself.

"Dawn, this can't be big enough. This makes no sense."

"No, it will be fine for the three of us. Really."

"This is not tent-shaped."

"IT IS NOT A TRIANGLE. It is a dome-like structure in which we will dwell for this evening. A plastic igloo, have you."

"What the fuck are these for?"

"Where does this go?"

"Tarp first, or later?"

"Guys, I think we're doing it wrong."

"Wait, no."

"No, I take that back. We're definitely doing this wrong."

"Yeah, definitely wrong."

"Hang on, let me just hit it with this rock."

And so Zo
ë and I sat on the ground, the picnic table, tearfully laughing. Our stomachs ached, our heads heavy with heat and with frustration. We watched as Ty, Neanderthal-like, hammered--with a rock larger than my fist--the small metal stakes into the ground. He was frustrated, we were frustrated. But we laughed. Swore. Expressed a need for said provisions. By the time we had finished setting up the tent, we were sweaty, exhausted. But, with a fire going, and the sun fleeting, we sat and talked. We ate the remainder of the pita chips and bean dip I had made. Talked about people we knew. Talked about people we wish we knew.

Sometime around midnight, we put out the fire, put up the food. Made our respective nests inside the tent. Brushed our teeth with bottles of water, tucked our glasses into the hidden pockets of the tent. Goodnight, goodnight. Some giggling, some whispering. Are you comfy? Absolutely. Goodnight, goodnight. Tucked between two of my best friends, goodnight.