Rhianne from
For the easily distracted
shared some LC-A
photos
from Harrogate, where she captured some architectural typography. Here, in a similar fashion, I have some photos from Fountain Square, a cultural district in southeast Indianapolis. My theme? Outdoor artwork. Painting. Graffiti. Whatever you want to call it. And, whatever they are, squint your eyes so they are
almost
closed. Then lean your head back and make half of your face twitch. Perhaps, then, the quality of these images will not make you shudder.
Regardless, the day I took these photos was actually me and Hans's three-year anniversary (and the day before
he proposed
). We wandered around antique stores as well as traffic cones and construction zones. It was only our second time in the district; our first time had been the day before. I had flown into Indy and, promptly after leaving the airport, we drove to
Siam Square
, a delicious Thai food restaurant on Virginia Avenue. There, I had planned to meet a fellow blogger. Though I was initially nervous, I really enjoyed meeting
Anna
, who was incredibly easy to talk to.
(I also know that she's probably reading this, so, in addition to saying, "Hi, Anna!" I'll add ... "Gosh, I hope you didn't think I was too awkward. 'Cause I'm pretty awkward. And kind of abrasive sometimes. And I look around a lot. Or down. Or around. 'Cause I'm awkward. As in, you take really dreamy photos, and if you were to take a photo of me, I would
still
look awkward. I would find a way to photo bomb my own portrait. Enough rambling. It's making things awkward.")
But really, Anna does take some
stunning, laid-back lifestyle photos
. Check out her latest posts if you don't believe me--they include images of white sandy beaches. If that hasn't hooked you, then check out
Kong Cat
, because everyone likes pictures of cats. (Well, practically every blogger, that is.)
Also, I want to apologize for the disgusting watermarks. I recently came across a Twitter account and a website that were using my photos without permission. They were not the greatest images by any means, but it still upset me. I have no doubt that all of us here know to
always ask
. But, for anyone who doesn't, I'll say it again:
always ask
. Because of those two incidents--which were not related--I've elected to slap a watermark on all of my images. I do not wish to, and it is not something I enjoy taking the time to do, but I'm beginning to find that it necessary. There is no reason why I should have to explain to an individual that Google is a search tool, not a source.
Sigh. Rant over.
But before I get to this hideous images, I should also mention that this post is for
Arielle
, because she's cool and likes graffiti. Art. Paintings. Whatever.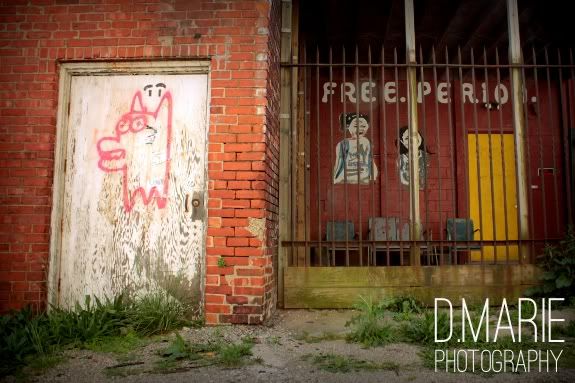 Oh, and in case you're wondering, we spent the rest of our anniversary wandering about the city. We spent time downtown, around Monument Circle (which also happens to appear in Anna's
latest post
, which is another reason to go check it out). We ate at The Libertine, a fancy, delicious, courteous, and flat-out amazing restaurant. Expensive, yes. Worth it? Absolutely. We had honey-glazed chicken, a fat bowl of semi-spiced mussels. Bread. Cocktails. Absinthe. It was fantastic.
Later that evening, we attended Crackers, a comedy club. Like Fountain Square, we were visiting it for the second time. Again, it was well worth it. Though the headliner was relatively and unsurprisingly raunchy, it was a wonderful evening full of laughs. And more drinks, of course.
What a wonderful anniversary that was.
Stay classy, my friends.