Just a few days before I left for Indy, I played photographer for an old friend from high school. I am ever grateful to her, because she has been encouraging, as well as incredibly excited, at each of our sessions. She approached me just last winter to take photos of
her daughter
, who was then a few months old (that was also the first time I ever took photos for another individual). This past fall, she and I, as well as her extended family, met in Omaha to do a
family session
. Now, several months later, we met for an engagement shoot.
Unfortunately, it was a rainy day. Clouds threatened the early afternoon's sparse sunshine and, by the time we finally met at my apartment (our home base), the water was steadily falling. Since I didn't have an assistant, I spent much of our session juggling both a camera and an umbrella. At the end of the afternoon, all three of us were damp and cranky, with wet shoes, wet socks, frizzy hair and exhausted temperaments.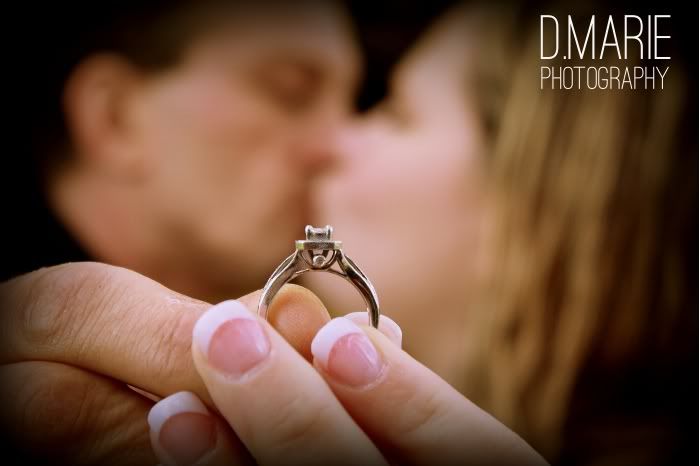 Unsurprisingly (since irony seems to make the world go round), the rain stopped just after sunset. While the fading light allowed, we shed the umbrellas and took a few shots in a courtyard on the Iowa State University campus. It was a pretty little park, with trees and benches and bushes. Flowers were blooming, and rabbits and birds made their presence. That calm, peaceful little courtyard inspired us all; it was a rewarding conclusion to our otherwise damp shoot.