A week ago, I flew to Indianapolis. I had woken up 20 minutes before my alarm, at the frightful hour of 5:25 a.m. I quickly showered and pampered myself, shoved last-minute articles of clothing into my duffel bag.
I was going back.
The three-hour drive to my mom's house induced a bit of anxiety.
What if I blow a tire? What if something goes wrong with my car? What if I get in an accident? What if I can't get home on time?
All unnecessary worries.
Home was just as I had left it two weeks before; the grass was green, the sidewalk was swept. My little, albeit psycho, cat greeted me from the window as I plodded up the trio of back steps.
"Hi, mom," I said, tossing my luggage onto the kitchen floor. I hugged her. "Sorry I am going to be in and out today. Sheesh, it's like the "Wizard of Oz"; people come and go so quickly here!"
Mom teased along. "Oh, sure. You just come right in my house and expect attention and a taxi ride to the airport. I see how it is. YOU don't love me."
We continued to joke for several minutes, and even took a brief stroll through the yard before we loaded ourselves (and my two bags) into the car. My nerves ignited once more after exiting the Interstate into Omaha. I sighed deeply, bounced my knees and feet against the floor of the car. I attempted to distract myself by commenting on the downtown baseball stadium, the sunny weather, the number of people jostling in and around Omaha for the annual Berkshire-Hathaway meeting.
Mom also tried to calm my nerves, and she offered me aspirin to soothe my racing heart. I tossed them down my throat as we strolled across the skywalk. Once in the airport, we sat at a table in the dining area, watching planes take off.
"I'm not going to want to come back," I told her blankly. "This is going to give me even less motivation to stay where I'm at."
"I know," she said motherly. "But just have fun. Lots of fun. Don't think about work once you're there."
And, for the most part, I didn't.
I wasn't thinking about deadlines when I saw Hans at the airport, when I rushed into his arms and shared with him a quick kiss. I wasn't thinking of editing when I met the lovely
Anna
at a delicious Thai restaurant in Fountain Square. I wasn't thinking of reading when I hugged my "Purdue friends" after five months of missing them. Proofs were forgotten when I sat outside with friends, awaiting both grilled food and a thunderstorm.
There was one nightmare about the office, yes, but, for the majority of my short vacation, the newsroom and its inconsistencies were out of mind. My worries and stresses dissipated when I walked Fountain Square, when I dined at a reservations-encouraged restaurant, when I nursed my way under his arm at a comedy club. His core tickled with laughter, and we sipped drinks and clapped in approval. We sat out on his deck, his porch, watching ducks and geese and other tenants. I laughed, giggled, whispered jokes and secrets about cats and color-blindness.
I had not felt so relaxed, so free of stress and loved in months. I slept. I actually slept. It was so wonderful, and I could feel my old self uncurling from behind the sarcastic and foul-mouthed individual I had become. I was happy. My smile; it would not wane.
"I can't stop smiling," I told Hans on our drive up to Purdue. "I am so happy right now, and I just ... I'm just really happy! I don't want to go back."
"Then don't."
"Ha! I wish. Oh well. It's something I have to do for now. But today, I just want to be happy. I've been smiling constantly the last two days. What the heck? WHO AM I?" I laughed, amazed at the intensity of my joyful ease. "I'm sure I'll be like this the next two days, too."
... I had no clue.
On Saturday, Hans and I decided to visit campus. I thought we would visit old haunts, walk past buildings and landmarks and gradually let pieces of memory--the smell of free hot chocolate, the echo of our mascot, the warmth of sunshine in Academy Park--bathe us in the beginnings of our relationship three years ago.
First, though, we visited the Horticulture Park, the place at which we had our first picnic, our
first anniversary
. The trails were damp, and the shade was plentiful. We stepped over logs, ant hills, crusted leaves from seasons before. The forest area was green; sunlight beamed its way through the branches and highlighted nature's lushness. Trees creaked; squirrels and chipmunks rustled and wrestled through twigs to avoid our observation. It was peaceful, and I uttered the words, "This is so pretty," several dozen times.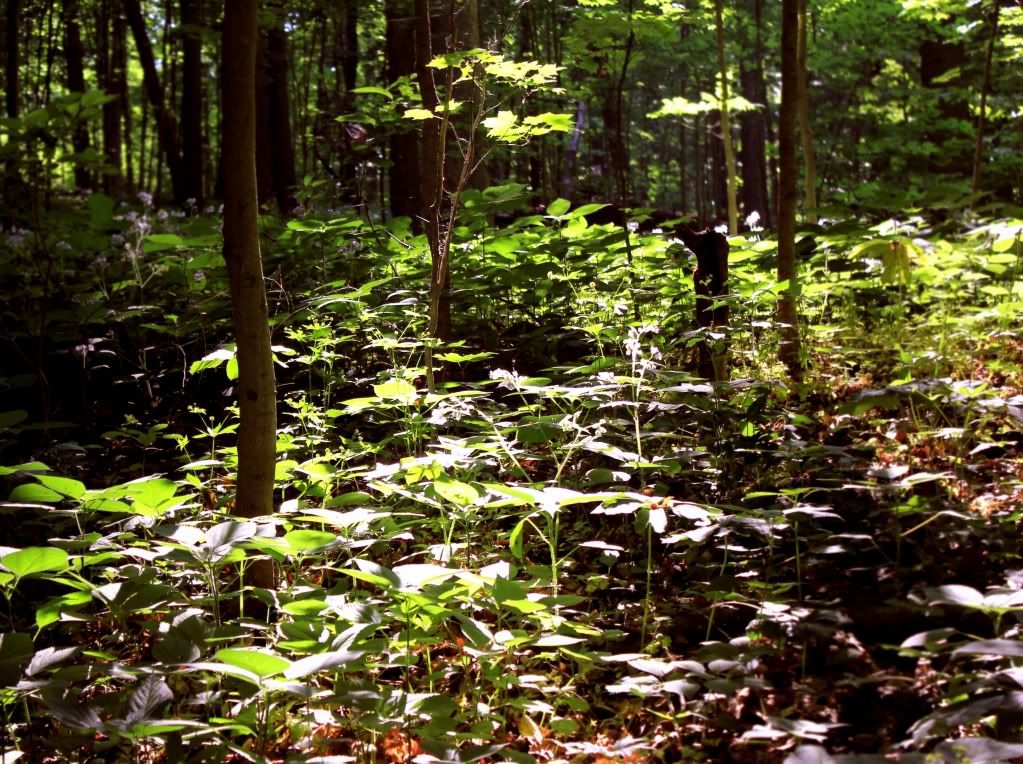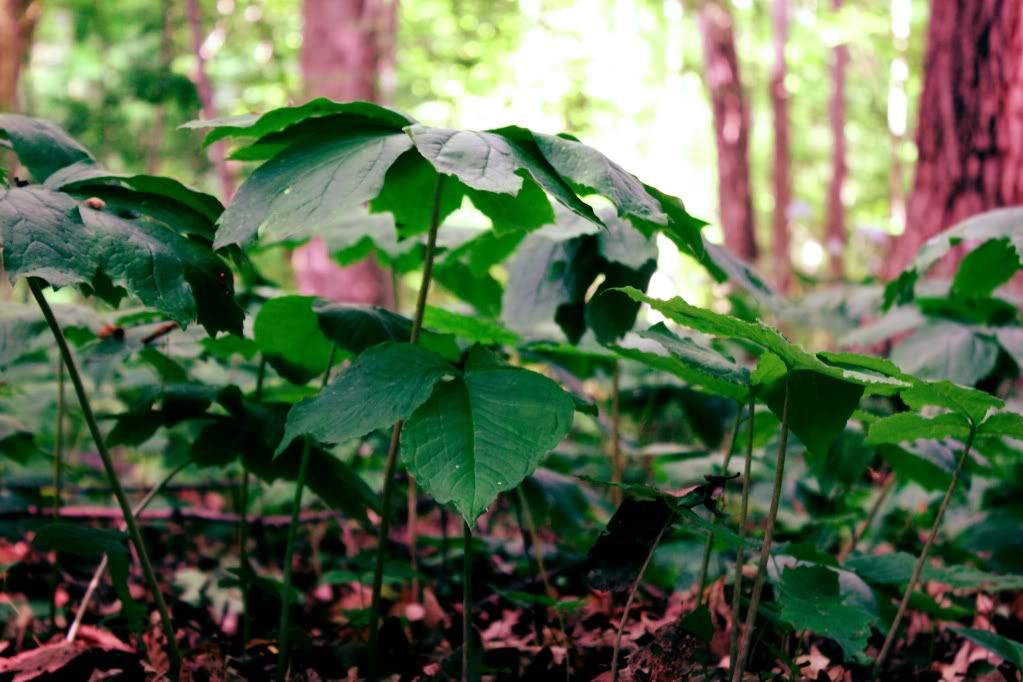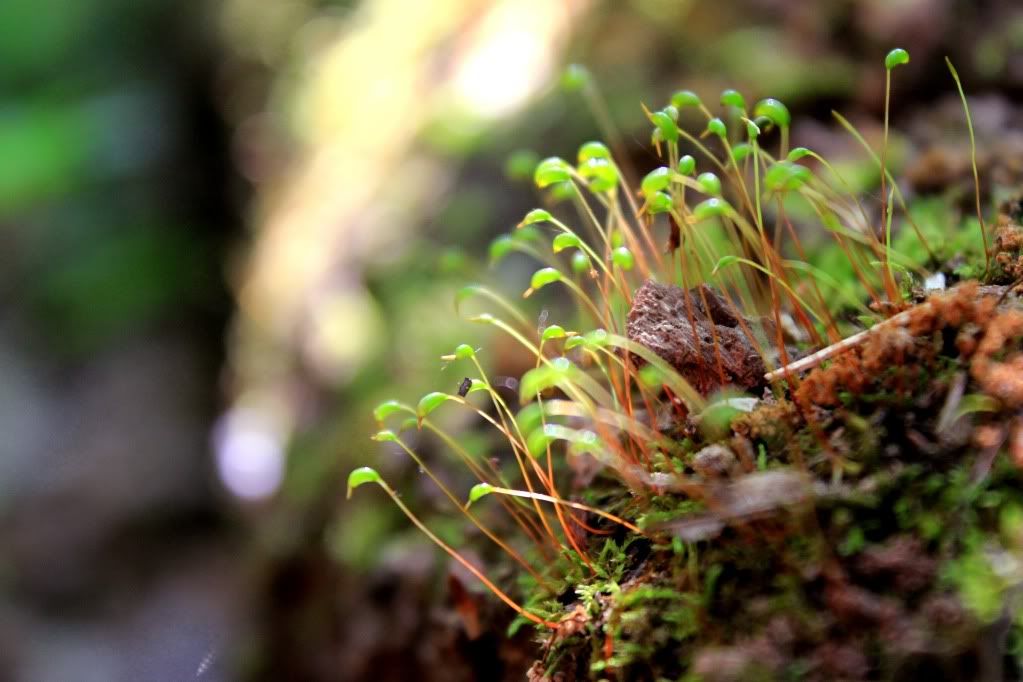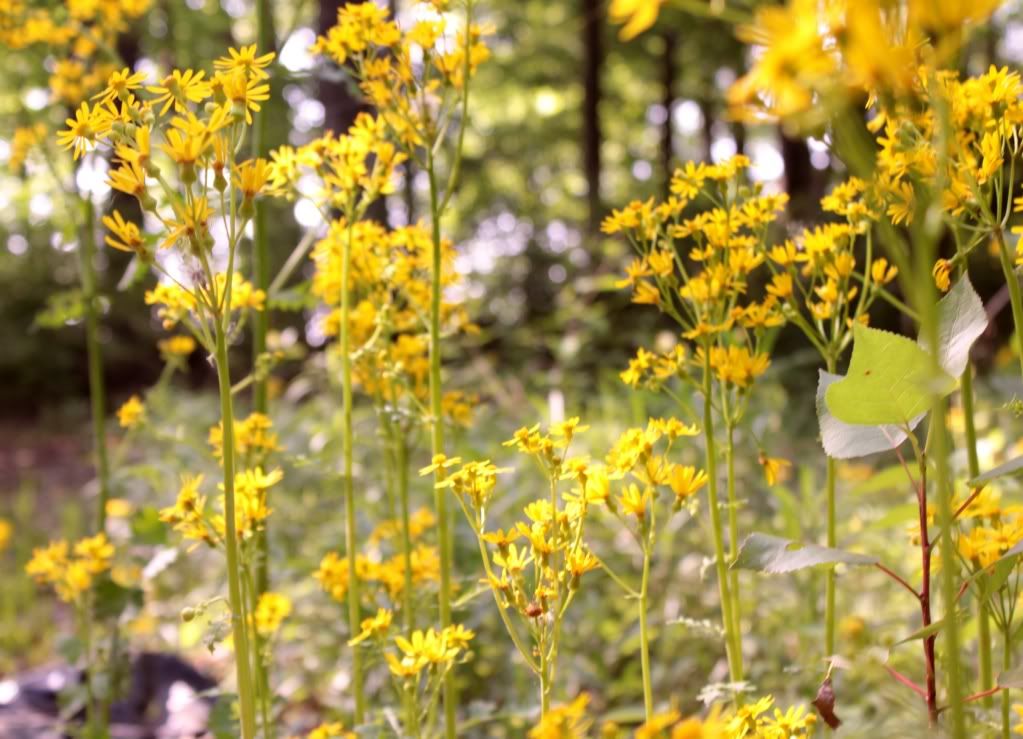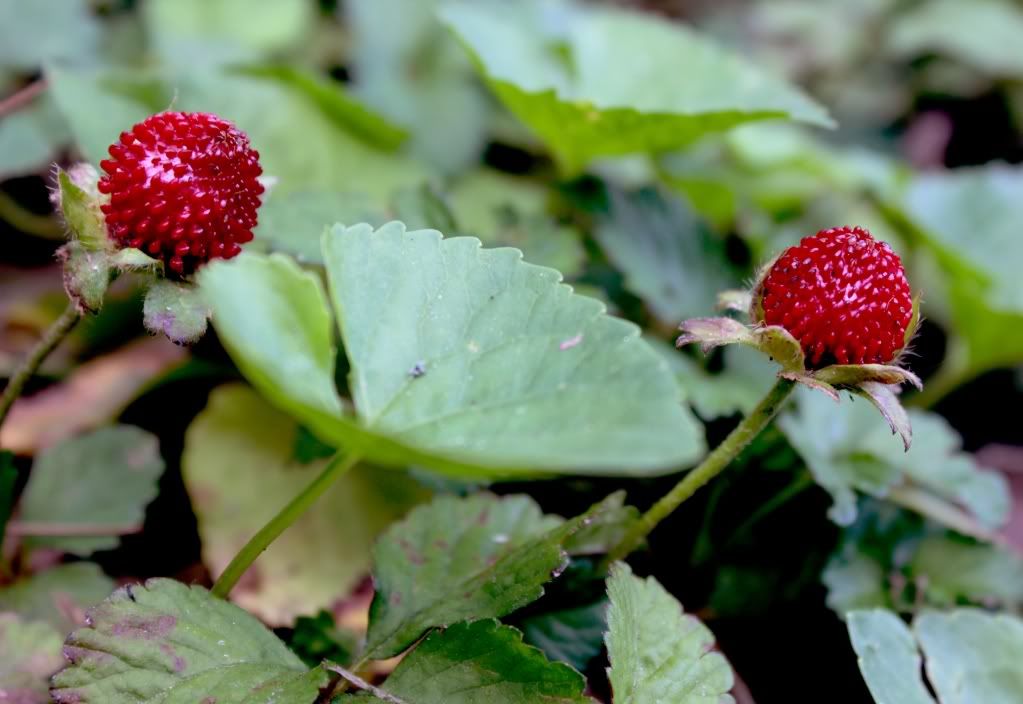 "This is so pretty," I said, pointing to a patch of light upon purple flowers. "It's so pretty," I responded, when looking at fallen logs and moss-covered bark. Pretty. Beautiful. Pretty. Peaceful. Nice. Just nice.
We continued walking through the woods, stopping to take pictures of curved roots and of flowers and of each other. I chose the path; made minute decisions as a way to break my indecisiveness. I eventually stumbled through a semi-overgrown path that led to one of the park's clearings. It took just a moment for me to familiarize myself with where I was; the tree at which we had our picnics.
"Remember this?" Hans said.
"Of course I remember!" I said, glancing around for cardinals he had just pointed out. "It's our tree."
We walked carefully across the grass, noting wild strawberries and mushrooms. Finally, Hans instructed me to go stand by the tree. He wanted a picture or two of us.
So I crept across the berries, stood anxiously on browned vines and dead grass. Awkwardly, I stood, anchoring the focus of his camera and tripod.
"Run, run, run!" I said, as he set the timer and hurried over to me. He grabbed my waist. I slid my right hand behind his back and smiled. The light on the camera flashed quickly. Once Twice.
Picture taken.
Hans removed himself from me and checked the image. "Eh," he said, shrugging. "Let's do another one."
"Okay," I said, a bit reluctantly. I wasn't entirely sure of his intentions. There was a hunch, but not a huge one. I was going with it; going with the taking of photos. My mind raced as I removed my glasses, shoved them into a back pocket of my denim shorts.
This is it? Is it? No, can't be. Not now. Nah. Just take the photo
. I fussed with my hair, teased my bangs, which still felt itchy and childish. "Okay, second picture!"
"You all gussied up?" Hans asked from behind the tripod.
I nodded, my chin exuberantly bobbing up and down.
"Okay, here we go." He pushed the timer button once more and sneaked around the tripod. He dashed over to me, low to the ground. My mind was a jumble of thoughts; I watched him, not the camera. I did not know what would happen; I was going with it. My plan was to relax and smile and enjoy and be as happy as I had been the past two days.
Happy smile here he comes see? normal maybe? maybe? no nevermind okay I hope I look okay here he is and ohmygosh nononono REALLY?
He dropped. At the last second, he dropped to his left knee. He pulled the ring from his pocket--which side I don't know--a detail that doesn't matter, and held it up. A present. A question. A proposal.
I was in disbelief. It couldn't be real. We had been talking, yes. Planning, a little. Speculating. But this wasn't it, really? This time? This weekend? This park? This spot? This was it? This was now?
The box was open; the camera was forgotten. There it was; a shiny ring I had seen in a store years ago, a piece I pointed out to Hans before we were even officially dating. And here it was, again, in a spotless box propped between my hands and his. He struggled for words, his eyes teared. I was sputtering, still confused and shocked. My face blurred as well, and I blinked to keep the tears from falling.
It was real, the moment he looked away, looked off to the side to compose his words, words I do not remember exactly. "Will you do me the honor of being my bride?"
And, of all things to say, of all things to think at the moment when both of us were teary and joy-filled, stunned and amazed, drawn together and separated from all else, I say, "ARE YOU SURE?"
I laugh now; we both do. When I tell the story to others, I make sure to include my response, make sure to include a laugh, for it is our story.
When I did say "Yes, of course," he slipped it onto my finger, nudging it past my knuckle.
"It's so shiny," I said, hugging him. Hugging him hugging him hugging him. I was not letting go. We wiped each other's tears, stared at each other, gripped each other's arms. We spent a few moments realizing the hilarious ridiculousness--and yet truthful vulnerability--of my response. We then called family. We texted friends. We texted pictures of my ring, took pictures of our faces. His, sly and satisfied, mine, ecstatically shocked.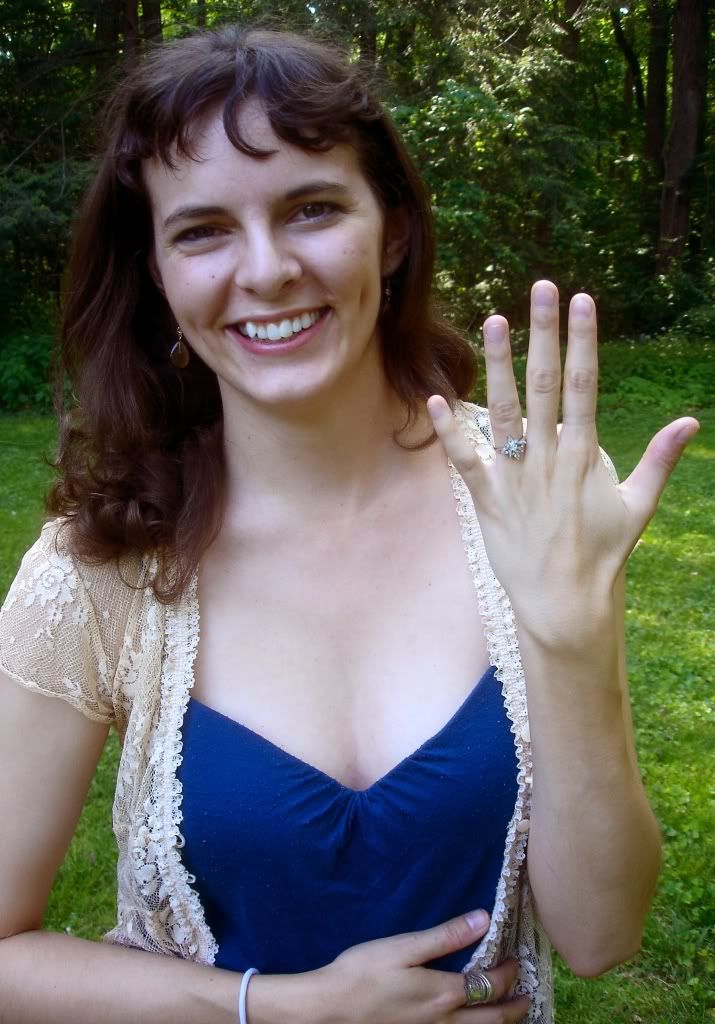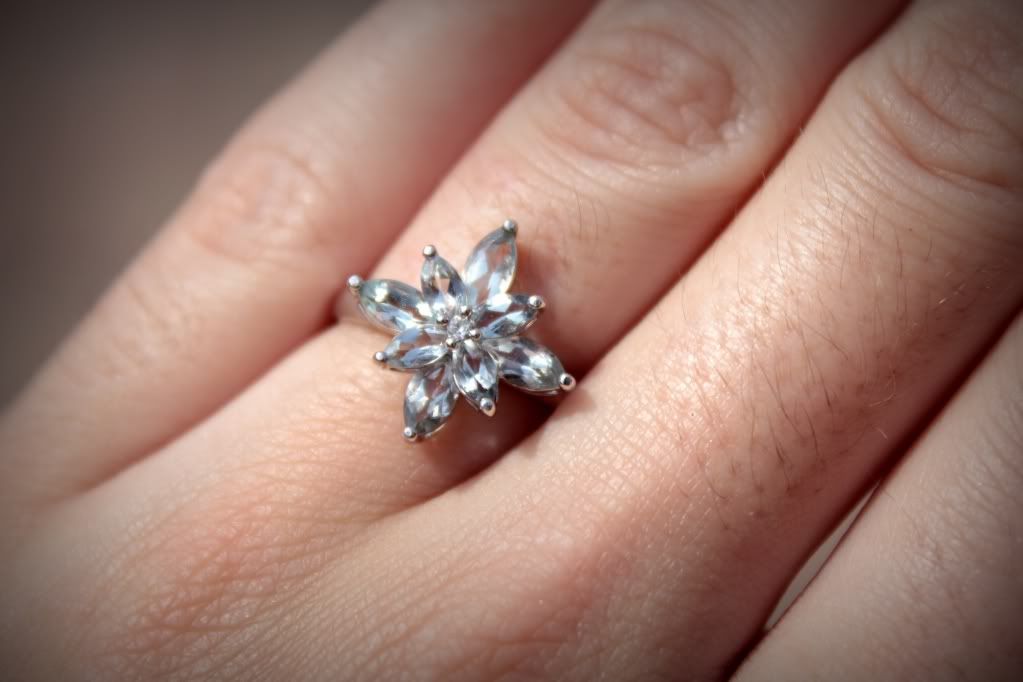 We hugged again, by his tripod, holding onto each other's waists.
"Do you want to get married this year?" he asked me quietly.
My eyes were still wide, my mind was still racing. "Why not?"
"Okay, how 'bout September?"
"September sounds good. Let's do it."
... and so we are ...
No need to waste more time. No need to continue spending months and months of our relationship in two different states. No need for me to feel stuck in an unrewarding position. No need for us to unhappy without each other. It's time. And though leaving behind a job and picking back up a life in Indiana may be both stressful and stupid, I've never felt so satisfied.
It's perfect.
And that's exactly what I told Hans when we got back to the car. He opened the door for me again, hugged me.
"I cried," he said.
"I know. I don't care. I cried, too. I said, 'are you sure?'"
"I wish I hadn't choked up." He nested his chin on my shoulder and squeezed me.
I, with my face in his chest, shook my head gently. "No," I said, peeling back. "It was perfect."