A week ago, the Iowa State women's basketball team had its senior night, and I was given the opportunity to be the photographer for the event. I was incredibly nervous and incredibly intimidated, mainly because this would be the first time I would ever be doing "big girl photographs."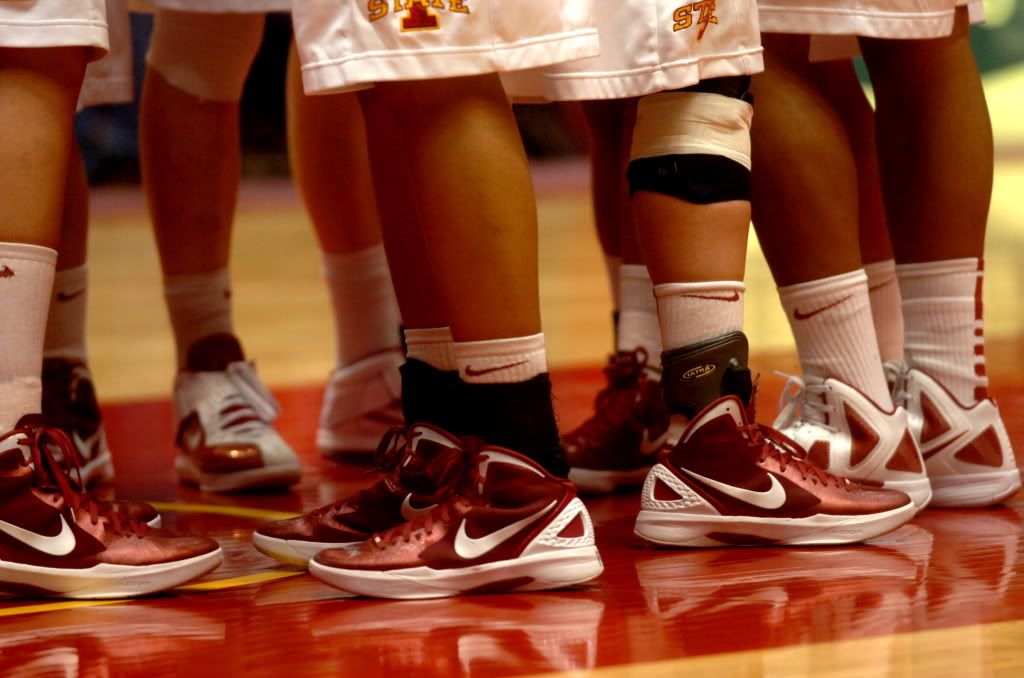 I teamed up with the coworker who would be writing the story and rode along to the Coliseum, where we briskly half-jogged into a side-entrance he insisted was the "secret media entrance."
"That implies that only you know about it."
"Well, it's not
that
secret. It used to be the old media entrance, but I still use it."
We trudged through the dusty snow, the bitter wind, tiptoeing across mud and sludge and until we reached the door. Warmth greeted my reddened cheeks, and I distractedly and anxiously followed my coworker down stairs, around corners, through hallways.
"In here," he gestured, opening a red door for me. I stepped into the carpeted room, a reasonably sized media room. An Iowa State curtain blanketed the back wall, and three microphones lined the interview table. The chairs were cushioned, the room was warm, the TV was on. Sweet treats and munchies were displayed on a corner table, and a Coliseum worker routinely pushed cans of pop and bottles of water from a cart into the room's small refrigerator. Information packets and statistics were neatly stacked on a table, and sports writers familiarly grabbed sheets before settling down to plug in their laptops.
I was in, in a way. I was part of something, and the simplicity with which the other individuals in the media room treated their surroundings was interesting, but also understanding. This environment--this fast-paced atmosphere of hit-or-miss questions, empty answers, now-or-never pictures and observations--was normal to them. I was the newcomer, the alien, the foreign photographer.
And I loved it.
When my coworker announced that it was time to head to the floor, I nodded, my stomach twisting. I slung my personal camera bag over my right shoulder, cradled the I'm-going-to-guess-11-pounds-with-the-telephoto-lens-on office camera (a Nikon D2). My coworker led me around more corners, down a few more steps. There was a loading dock, a truck with materials and equipment and things I didn't entirely have the time to look at. Through the entryway. Stadium seats. Hard, coiled, curled, bent, black metal. Noise. Crowds. The bouncing of basketballs, the squeaking of shoes. Cheers and music.
Rock Party Anthem
.
"You know where to go?" my coworker asked me, as we rounded the corner.
On the floor. Frozen. The boards just inches from my toes. My head was a abuzz with the crowd and the teams, the echoes of voices and throbs of music. White noise, it was all white noise ... and I was still, nervous and excited.
"Yes."
He settled himself into one of the press tables, and I raced to nab a spot on the other end of the court. I stepped over camera cords and athletes' bags, pom poms and the feet of others. Lugging cameras, I dodged officials, court-side seats, confused fans. I managed to squeeze myself between an Iowa State Daily photographer and an older man with an even larger camera than I was hauling. I thanked them for the small space they allowed me and curled my legs beneath me. It was cramped, tight, hot, stressful. I tested both cameras, adjusted apertures and ISO levels.
What was I thinking? I can't do this ... I suck
.
The first half was me mostly trying to figure out the cameras, trying to figure out the right setting and the right timings. I clumsily handled both, grabbing mine for close-up shots. I realized that I was not satisfied with either camera--the office one was appropriately fast, but its ISO abilities were nothing I preferred. Furthermore, the only lens I had for it was an incredibly large one that was not sufficient for shots on my end of the court. My camera, though perfect for short-range plays, did not have a fast enough fps to really get what I needed.
At the beginning of the second half--just after I raced to the opposing press table, cameras still in hand--I was incredibly frustrated. I felt useless and unskillful, and was afraid that I would not have a single image to be shared in the paper. With explicit instructions to capture "No. 4," I focused my lens on the moving target, snapping and snapping and clicking and grabbing another camera and nearly dropping one and using both at the same time, one at my feet, the other in my hand, resting them on my knees, why don't I try this oh gosh this has to work yes I think I may have gotten it ooookay maybe not wow that would've been good if I had actually gotten the ball sheesh Dawn come on I like this angle okay now focus on the bench this camera is heavier and heavier now this this this this.
By the end of the game--a game which I watched solely through the lenses--my arms were sore. My shoulders ached from holding that monstrosity of a camera; they strained and pulled and throbbed as if I had been moving furniture, lifting boxes, playing tennis, lifting weights.
I had taken 1,345 images.
Of those, only one was printed in the newspaper; two on the
website
.
Though I wasn't entirely pleased with my results (the one photo that was printed turned out looking incredibly yellow, which may have been the result of toning, which I didn't do), I really enjoyed the experience. I was able to experience the necessary quickness of an NCAA game, expand my knowledge of shutter speeds and settings. I learned a thing or two about my camera, the office camera, cameras and sports in general. Most of all, I got to be a part of something, part of a media camaraderie, that had piqued my curiosity for months.