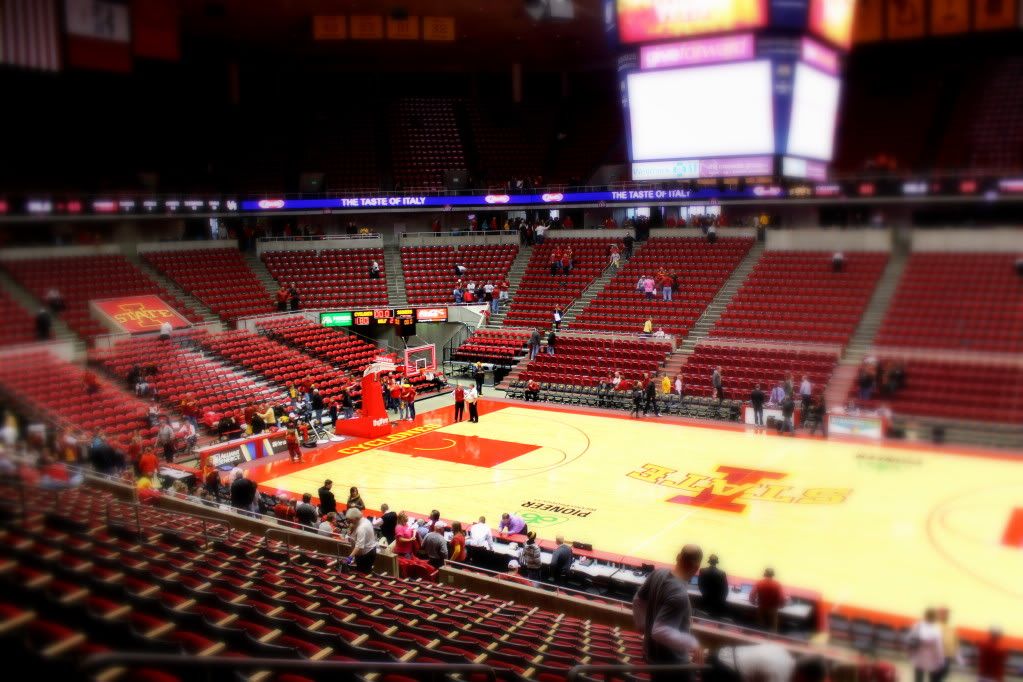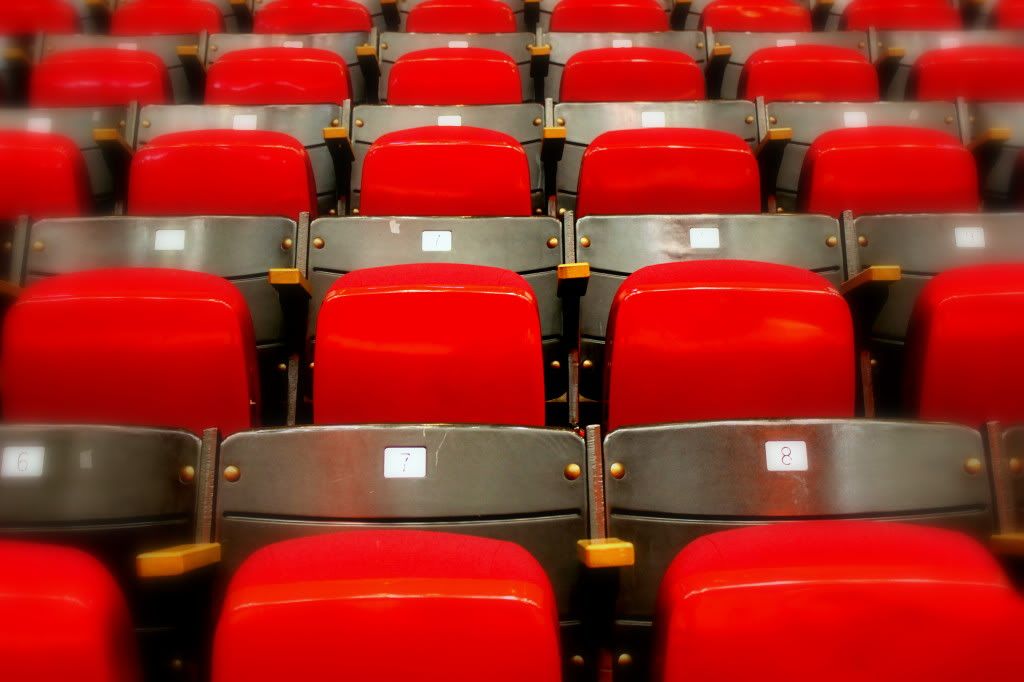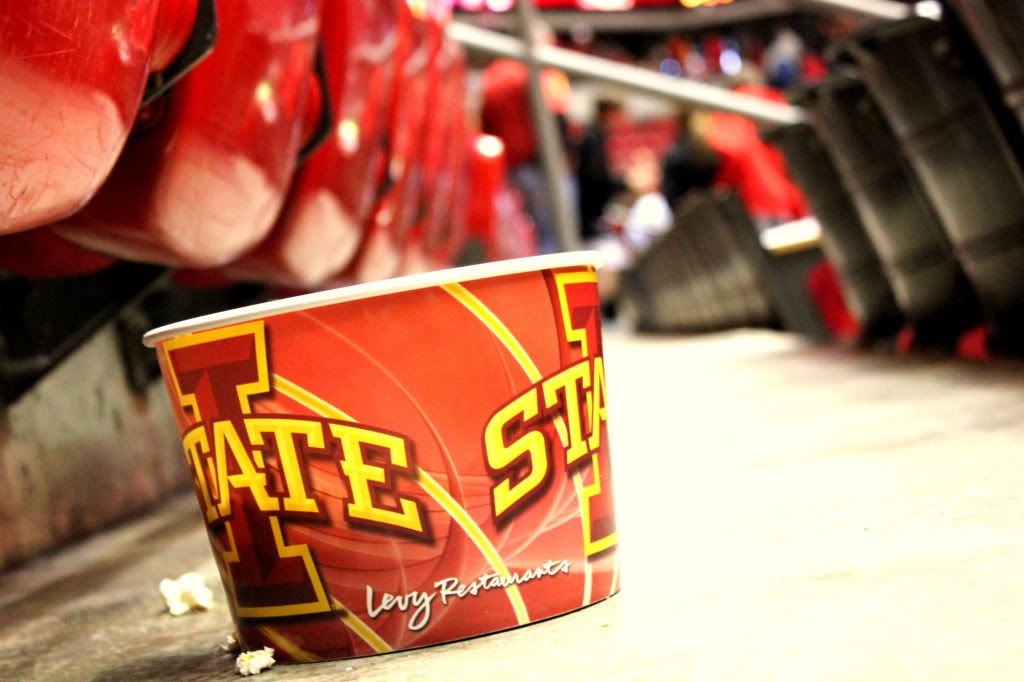 Last Saturday, I attended my second NCAA college basketball game. The first had been years ago, back when I was 11 and Cary Cochran was a star for the Nebraska Huskers. I was spending the weekend with my dad, who drove us, along with my grandmother, to Lincoln. I don't remember much of the trip, or much the game, either, for that matter. I do remember the size of the stadium and, since we were there so early, I spent a good 15 or 20 minutes walking around the entire length of the top row. I would stop at times, glance across the floor and the thousands of seats to where my grandmother, a dot, sat and watched. Besides my jaunt past rows and seats and aisles, I do remember engaging in some of the cheers. Standing up, excited; Nebraska fans were enthusiastically contagious. It was exciting, thrilling, entertaining.
A week ago, I went to an Iowa State game. I had won a ticket through work. That morning had been fine; I had put in a half hour at the office, struggled with parking, and had made it to my seat in time for the tip-off. Come a timeout during the second half, however, I was scolded by the man on my right.
"You need to stop texting," he said forcefully.
I looked over at him, confused. "I'm ... I'm sorry?"
"You need to stop texting. I can see what you're saying there, on your message, and I can see that you're saying bad things about me. That's not necessary."
Stunned, I was frozen for a moment, but laughed a small laugh, awkwardly at best. I was angered by my invasion of privacy, upset that he had thought it important to read my thoughts. I hadn't spoken to
him
when he had pulled out his iPhone, and I certainly hadn't read over his shoulder.
The message he had misunderstood was the beginning of a note to Hans, a message that would have stated, "This just makes me miss Purdue. I realize that I don't really care about either one of these schools, and that my pride lies in the one I can't be at right now. I wish I wasn't by myself here, either. The two guys next to me are strangers, so I feel lost."
He, of course, had interrupted me right when I had typed "The two guys next to me..." I had never finished my sentence, my thought. When I explained my feelings, he disregarded them, obviously under the belief that I was lying.
"Yeah. Uh huh. SURE."
I nearly scoffed, I was so offended.
I had barely opened my mouth to respond when he opened his, this time more aggressively. "I mean, you're already in my seat. I mean, I didn't ask you to move, but you're already there. You know, that's ... that's one thing. But this talking about me? Saying bad things about me and the other guy? No, that's unnecessary. You don't do that. You just need to SIT DOWN, stop TEXTING and CHEER. That's what you're here for. So stop."
Heart racing and emotions bubbling, I nearly burst into tears on the spot.
I was so frustrated, so hurt. I understood his passion for his team, his interest in the game. However, I didn't think it was necessary for me--a person indifferent to both the home and visiting teams--to clap and cheer and yell and gasp and shout and boo and throw my hands up with each play, with each call, with each shot. I was there to experience the game; to observe; to photograph; to watch others and ... see.
The rest of the second half was awkward; I barely moved from my seat, and, yes, it was
my
seat. I didn't know what to do, other than forlornly watch the players galumph up and down the court. His words had hurt; I was already tired, burned-out, overwhelmed and depressed. The conversation had left me even more upset and beaten-down. In a stadium of thousands, I had never felt more alone. The encounter dampened my mood, clouded my happiness for the remainder of the day. It was difficult for me to brush off the confrontation.
I am rational enough to know not all Iowa State fans are as intrusive and rude as the one I had the unpleasant opportunity to meet. However, it did increase my (yes, I have it) irrational hatred for the school.
Today, however, I rejoice in irony. For, as an employee in the newspaper industry, I've been granted another photography opportunity: on Wednesday, at only my
third
NCAA college basketball game, I will be shooting the Cyclones.