I did some Christmas shopping on Friday, stopping at both a Hobby Lobby and an antique shop. I did pick up three small images for myself as well; they are miniature postcards from Italy--one from Tivoli, two from Monreale. They are three small reminders that encourage me to refresh my Italian, to remember it and cultivate it.


That evening, Hans and I went to a Chinese buffet. Already starved at 4:15, we arrived at the buffet at 4:30. We waited patiently for it to start, joking and talking for half an hour. Hans stirred his Mountain Dew, extracting two unexplained herbs from the ice cubes. Despite the presence of the specks in his drink, the food was delicious. Fresh, hot, perfect. Plate after plate, we scarfed appetizers and courses and desserts.

We drove off into the sunset.


On Saturday, we ventured into Indianapolis. Our first stop was a visit to
Easley Winery
, where we were given a free tour. The Press House, the Fermentation Room, the Bottling Area. It was interesting and informative; I could take pictures, Hans could learn the process.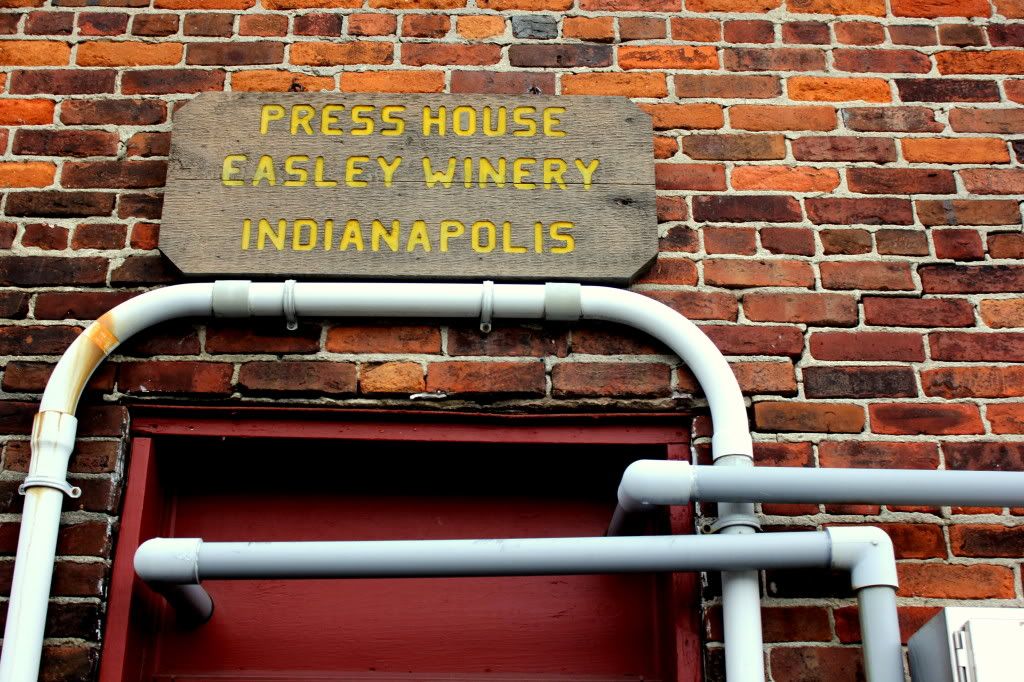 Seven wines were too much; I shorted myself one sample at the tasting, cheeks rosy from the others. I had savored each glass; looked at it, swirled it, smelled it, sampled it. There were three I liked, but only one, whose peach scent transcended from nose to stomach, that I loved. I remember pointing at the tiny cracker jar and saying, "I want this as much as I want the wine."

The bust in the courtyard was constructed to be the same height as that of Mr. Riley. "I've got four inches on you, Hoosier poet," I said to the bust.

After Riley's home, we managed to find our way back to
Sun King Brewery
, an establishment that I knew Hans would be interested in. We entered, joined a free tour group, began walking around the tanks and pipes and bubbling mess. The smell, a sour reek, gave me an instant headache. I could taste it, sense it on my tongue and throat, and I frowned. My nose wrinkled in remembrance of how much I hate beer.
The cooler, however, was awful. At 32 degrees it was cold, yes, but it also had a distinct scent that instantly and fully plugged my nose, choking me. My eyes burned, and I stood, eyes closed, tears leaking out the sides. I wasn't listening to the guide, nor did I care about what he said. I had lost interest long ago.
I aborted the tour, stood in line for the one, one-stall unisex bathroom the brewery had. I glanced around, saw buzzed individuals, even two drunk individuals. It was full and loud and noisy and intoxicating and nauseating. Not my type of place.

Driving through and around downtown, weaving past construction and one ways, we found
Minx Vintage
, a small store with choice garments. Hans tried on hats, jackets. I tried on dresses, coats. Not a piece was stained, torn, ripped, ruined. Hats from the 1930s, a man's three-piece suit from the '40s, '60s dresses and '80s shoes. It was a melee of vintage and antique, of thrifted and found and picked. I was impressed, and I promised the store owner that I would spread word.
We walked back to the car, sat inside its locked doors for quite awhile. We sifted through attractions and entertainment, points of interest and galleries and restaurants. Finally, I voiced my true feelings.

"I'm too tired. I just ... want to go back to the apartment. That's why I mentioned it. I'm so sleepy. We both know I haven't been sleeping and, even though I know you said you wanted to spend a whole day here, I don't think I can do anything more."

No hard feelings. No fights.

I laughed through my tears.

"Why are you crying?" Hans asked, concerned. "What's wrong?"

"I'm just that tired," I said hysterically, still laughing. "I'm just so tired. It's not that I'm upset about anything, it's not that I feel bad. I'm just. that. tired." I sighed and wiped my eyes. "I can feel it everywhere. My brain, my body. I'm weary and I can feel it everywhere." I relaxed back into my seat, dreaming of falling asleep while reading a book.

"Well," said Hans, "How about we drive around a little bit and then head back? Does that sound good?"

"Absolutely."

The short trip up and down Washington, past the Circle and through the city lights was worth it. Sparkling and shiny, glittering and reflective, I knew I had to come back in December to see the magic completed.


Sunday was our lazy day. We spent our mornings and afternoons on our respective computers, shouting out at each other with interesting finds and comments. I stayed in my pajamas until 2:00, then took a shower and changed into a clean pair of pajamas. I made a work station on the living room floor, weaving and stitching and scissoring Christmas ornaments as I watched
True Blood
reruns. Hans joined me after the first two episodes, then announced he was hungry for a "giant stack of pancakes."
"Can I have a Mickey Mouse pancake?" I asked, cutesy and flirtatious.

And last night, after ornament-making and phone calls to our mothers, we curled next to each other, talking about secrets and aging before drifting peacefully and quietly to sleep.