There are a lot of people who spend their Thanksgiving evenings napping, sleeping on top of couches or nests upon the floor. TVs will blare scores, touchdowns, commercials, and the drone of voices in the kitchen and living room will fade late into the day. Families make Christmas lists, map out Black Friday plans. They watch games, contemplate snow and the fast-approaching New Year.
I spend my Thanksgiving evenings in Omaha, or least imagine to. I hadn't been to the Holiday Lights Festival in three years and, knowing that I would be in the area, I convinced my mother to cross the river for the event.
It was a beautiful evening. Breezy, but 60-some degrees. Warm. Airy. Refreshing. Wonderful.
We hobbled along the cobbled streets, stepping into the year-round Christmas store. Mom checked prices of figurines and
Peanuts
ornaments while I dreamily admired an olive-tree nativity. We danced around thousands of ornaments, sashayed beneath ivy-covered arches and glittering, mirrored garland that stretched floor-to-ceiling.
Outside, in the Old Market, a trumpeter tapped out "Joy to the World." His notes were accompanied by the jingle of bells from the nearby horse carriages that invite tourists and locals alike for over-priced, relaxing rides through the old streets.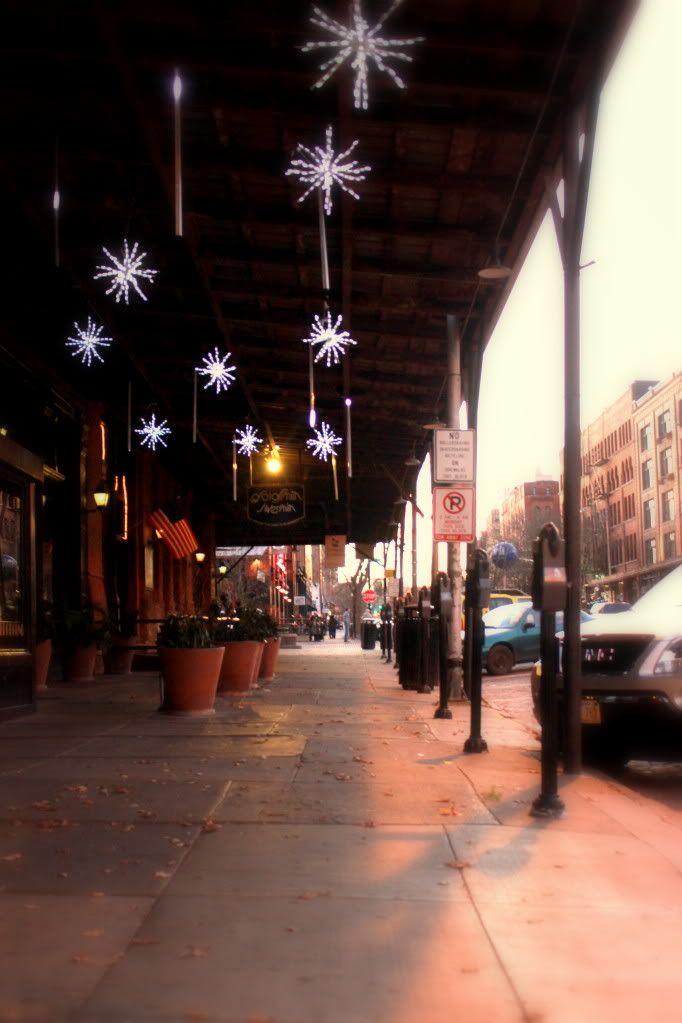 Carolers, lights, carriage rides ... the sights and sounds of Christmas festivities were on each corner, from 11th and Howard to 10th and Farnum.

"I'm so glad you came with me," I gushed to my mom. "I haven't done this in awhile. I hope you like it!"

We staked out a spot in the Gene Leahy Mall, one with a grassy patch and a tree stump. We joked about things and spoke of the day's activities before being interrupted by a couple with two dogs who were remarkably interested in mom. The dogs, a twelve-year-old yellow lab and an eight-week-old puppy, respectively, licked her hands and guarded her side. "I think I inherited a dog," she said to me, as the older lab nested beside her and refused to follow her owners down the hillside.

Shortly after 6:00, the last rays of sunshine disappeared behind the downtown buildings. The sky deepened from red to purple to blue to black, and we sat, impatient but comfortable, for the lights to flicker on.

10 ... 9 ... 8 ... 7 ...
The countdown began, and echoes of the numbers bounced between buildings and trees, people and pets and benches. Half of the crowd was still on "two" when the lights were turned on with a spectacular explosion of "oohs" and "aahs."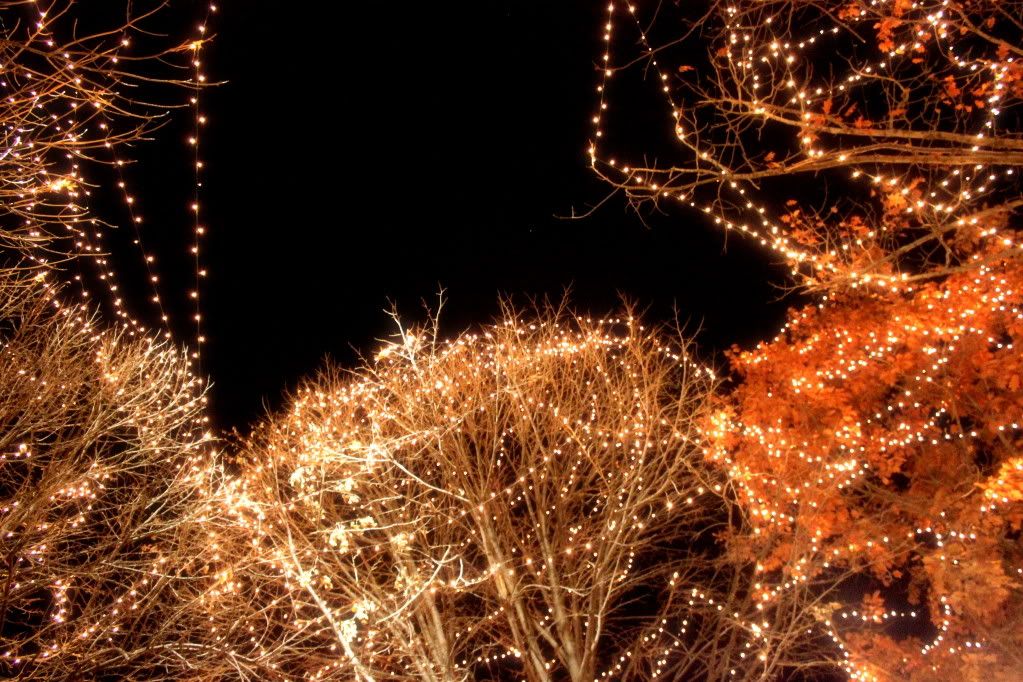 Twinkling and glittery, the 1,000,000+ lights sparkled through the branches. Their reflections danced upon the water, shimmering with luminescence. They shone brightly, and when you tilted your head up, they teased and lit up the sky, an inner-city galaxy.
I turned to mom, assisted her in climbing back up the hill. "Was it worth it?" I asked through the parade of people rushing past.
Take time and enjoy them
, I thought.
Don't be in such a hurry to leave something so peaceful
.
"Definitely," mom answered. "Thank you for suggesting it."