I'm honestly hesitant to post this, and I'll probably regret sharing this piece of embarrassing literature I wrote for
Lucky Magazine
. I put it together at the same time I was trying to impress people--agents, editors, bloggers. I wanted to feed them the words that they wanted to hear, feed them the shallow thoughts that
the
Lucky
editors believe their readers want.


Though I was devastated at the time, I later came to appreciate the fact that my entry was not accepted; at the last possible minute, my words and pictures became embedded with errors and codes that I was unable to fix. I frantically emailed the magazine, tweeting them my problem with utmost panic.
Obviously, the issue was not resolved.


I later learned that other contestants had issues, and many (dozens, in fact) are upset with
Lucky Magazine
. Though I am happy to hear that I was not the only reader who had difficulty, it is disappointing that a renowned magazine has dropped readership as a result of poor planning and a lack of communication. In a way, I am happy to
not
be associated with the magazine.
... but that entry still shows how shallow I can be, too. Though I am embarrassed by it, I am by no means embarrassed by mother. The feelings I do manage to express are quite true (though the relation of the stories are somewhat hyperbolic). In fact, my mother is the reason why I am sharing this entry. Every time I see the collage I made, or the photo of her playing guitar, my heart travels across two states, across time.
It is true; I wish I had known her then.
I was born at a time when bold patterns and gender-neutral names like Morgan and Taylor were sprouting. My best friend, on the other hand, was raised in conservative-yet-classic dress styles that mimicked First Lady Jackie Kennedy. More than twice my age, my best friend has experimented with hairstyles and bell bottoms, cat eye glasses and seersucker. By the time the '90s rolled around, she had exchanged flowery, flouncy dresses for denim and oversized polka dots. I, however, was still curly-haired and dimpled, dressed in Lion King T-shirts and citrus-colored shorts (think
Jenni Kayne
).
Today, after a brief, teenage obsession with Hot Topic, I indulge in bright colors and pencil skirts. As for my best friend? She passed her
vintage relics
to me, and now stresses comfort and simplicity. She argues that makeup "gives her a headache;" I struggle to leave the house without ChapStick and
blush
. As for foot apparel, my best friend seeks solid arch support and wide flats as a result of her physical impairment. I, however, love me some heels (such as MIA's "
Ella
"); I stand tall, walk proud, sometimes even strut. We have different styles, sure, but we've always supported each other's individual beauty.
We kind of have to—we're related.
Mom was in her early thirties and was busy embracing a life of frugality when I was born. Handmade, solid-colored shirts hung in her closet and I—the baby who had to grow into both her ears and feet—was dressed in many of the same items she had once worn.
By the time I was in school, my favorite colors were purples, pinks and pastels—an affection that is apparently inheritable. As I grew up, I grew into a trend I wouldn't recognize until I compared photos years later—I copied my mother.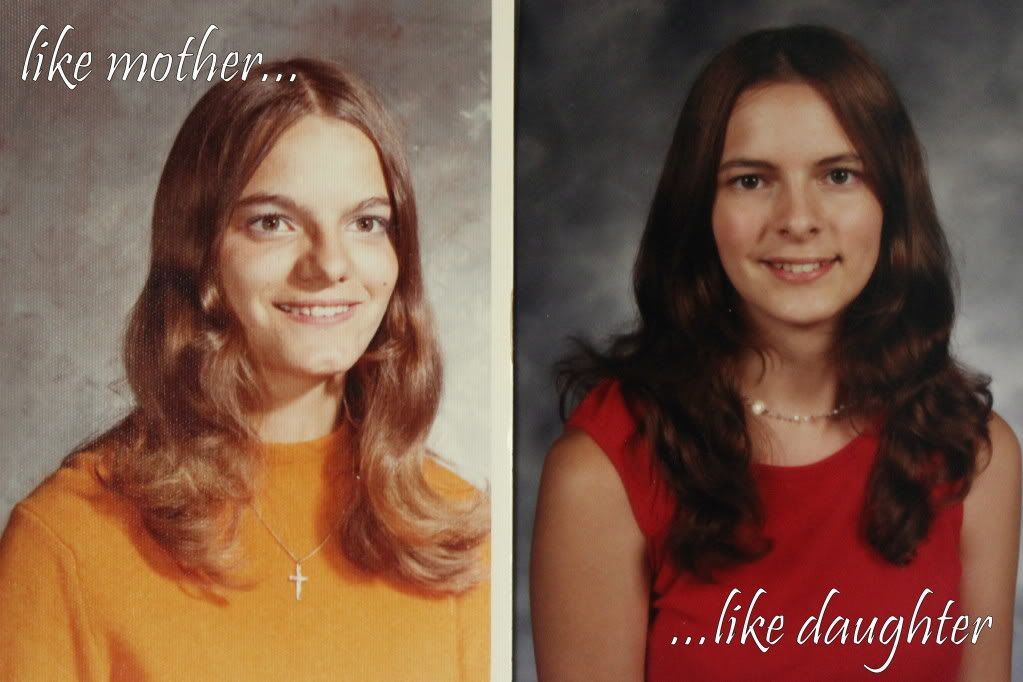 From hairstyles to hobbies, my high school years mimicked those of my mother, a 1974 graduate and enthusiast of performing arts and flowing patterns. In the few pictures that do exist from her late teens and early twenties, my mother is always found in simple-yet-elegant patterns like those at
Ruche
, a vintage-inspired store popular with bloggers. A string of pearls, a delicate lilac, a high-waisted peasant gown; just like the Cover Girl products she and I both enjoy, mom's clothes were easy, breezy, beautiful.
There's one photo of her that I absolutely love. Mom is 16, her hair straight from ironing (remember, these were the days before the
GHD Classic Styler
). She's donning the epitome of '70s outerwear and playing the guitar. Sure, she has on over-sized eyewear (my first pair made me look like an owl, too), but she is carefree and artistic, easygoing and bejeweled with rings handcrafted in Arizona. I look at her, look at who she was, and say, "That's mom." She dressed in a way that reflected who she was.
Forty years later and beset with multiple sclerosis, mom has a one-word theory: comfort. The base rules of her style are flat soles, flexible bottoms and non-restrictive tops. Stores like
Lane Bryant
offer stylish, affordable tops for plus-size gals and some items, such as Fresh Ayer's
Linda Top
, even mimic mom's former style. Old Navy is her store of choice when it comes to
trousers
, and, as it is my favorite place to scour for trendy, inexpensive finds, it is common for us to pull the same
styles
in different
sizes
off the racks.
Favorite Decade:
1970s
Recent Purchase:
Turquoise Earrings
from Tinker Girls
Can't Live Without:
Her decorative, zebra pattern walking cane.
Go-To-Beauty Product:
Johnson's Baby Oil Lavender
"The baby oil is a wonderful relaxant that keeps my skin soft and silky."
Favorite Decade:
1950s
Recent Purchase:
Floral Crochet-Back Top
from Charlotte Russe
Can't Live Without:
The necklace I made out of my mom's charm bracelet.
Go-To-Beauty Product:
Revlon Matte Lipstick in "
Really Red
"
"I love heirloom jewelry; it's highly personal and easy to upcycle."
Like
Joanne Nam
and Jo Miller, my mom is also a style icon … it just took me two decades, three pairs of over-sized glasses and an atrocious pair of leopard-print pants to figure it out. Let's face the facts: as a child, my mother was bombarded by America's Royal Family and, as an adult, by the culture of natural beauty. I should have known to trust her when she gifted me her own Missoni-style shirt. "You can be a trend, or you can be yourself," she told me. Solid advice from a woman who, decades before diagnosis, marriage and motherhood, had ushered in the easygoing, no-fuss fashion I aspire to. "Red pants, eye makeup and decades aside," I said, pointing at photos of us, "I just want someone to look at a picture of me and say, 'That was her. That was Dawn.'"